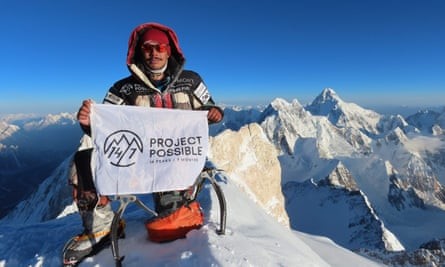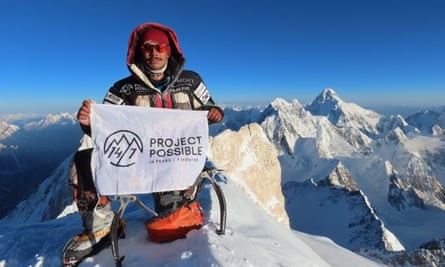 The Himalaya, the World's highest mountain range, are intimately bound with the spirit and the life of many of the people of Nepal from birth to death.  Perhaps most famously this is the case with the Sherpa people, associated with world famous Sagarmartha (Mt Everest), renowned for their mountaineering prowess, and so too many of the peoples who are known through the name of 'Gurkha' (in the UK, and in India and broader South Asia as 'Gorkha'). 
Image above: Nirmal 'Nims' Purja stands at the summit of Gasherbrum II on 29 October, completing his record-breaking speed-climbing feat. Photograph: Nirmal 'Nims' Purja – Bremont Pr/AFP via Getty Images
As such, and with eight of the fourteen highest mountains in the world being located within Nepal, it is not surprising that mountaineering capabilities and lore perhaps belong to Nepalis more than any other peoples of the world. Whether or not skilled in mountaineering, every Nepali person takes great and understandable pride in that unique relationship with the skills that enable mastering the legendary heights of many of the world's highest places, whether or not they have such skills themselves.
This was born out in the course of the heritage project early information gathering stage on a meeting with committee members of the Nepalese Association of Wiltshire (NAW) in Swindon in the late Spring of 2019. At the meeting the name of Nirmal 'Nims' Purja, and that of Mission Possible, were introduced when we discussed the very special sports dimension of Nepali, especially Nepali-Gurkha culture. At that point Mission Possible was still progressing towards its, ultimately, very exceptional successful conclusion, and an introduction kindly made from the NAW Committee's members to the representative of Mr Nirmal Purja. By happy timing, the completion of the cultural & social heritage project was after the completion of Nirmal 'Nims' Purja's epic Mission Possible challenge.
Below through two news links, is an account of this historically important, heroic accomplishment on Ultimate Endurance Sport, Speed Climbing.
'It's not about ego', says speed climber who tamed world's 14 highest peaks
Nirmal Purja says hardest part of his record-breaking feat was solving a diplomatic impasse with China
Nirmal "Nims" Purja's record-breaking ascent of the world's 14 highest mountains in just over six months drew plaudits and astonishment at his physical feat. But for the man himself, the climbing was "the easy part".
Speaking to the Guardian from the Nepalese capital, Kathmandu, Nims said the real challenges were the logistics and fundraising.
Perhaps most difficult of all was the diplomacy required to persuade the Chinese authorities to open the last mountain on his list, Shishapangma, which was closed to climbers for a year.
Nims, a former Gurkha and British Special Forces member, completed the final ascent of his gruelling challenge earlier this week. Along the way he assisted in several dangerous rescues of stricken climbers, risking his own project.
If there was a final issue for Nims to overcome, it was, perhaps, the least tangible: a widespread disbelief that he could really do it, despite having climbed Everest, Lhotse and Makalu in five days in 2017 and "feeling fine" – the experience that persuaded him that he could do this challenge.
"No one believed it could be done. Some people made a joke out of it," he explained, comparing his ambition to the recent successful efforts to run the world's first sub-2hr marathon.
"The main thing is to believe in it. That you can give 100%. But in all honesty the most emotional moment was when we succeeded in persuading the Chinese to open Shishapangma just for our team.
The Project Possible team, from left: Lakpa Dendi, Mingma David, Geljen, 'Nims' Purja, Dawa, Halung Dorchi, Gesman. Photograph: Project Possible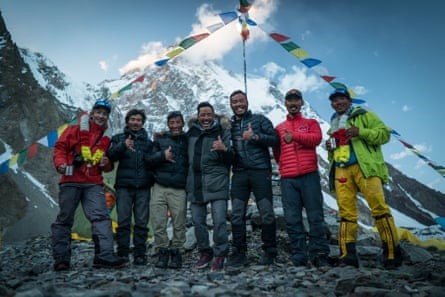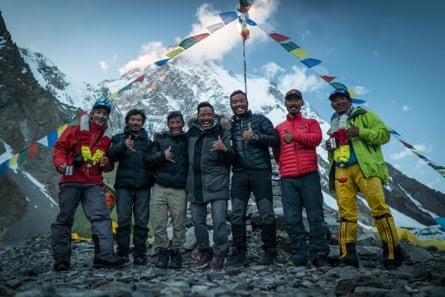 "After I climbed the mountains in Pakistan [including the world's second highest, K2, and Nanga Parbat] I flew straight back to Nepal and went to work on persuading the Chinese to let us climb on Shishapangma."
That including lobbying the Nepalese government, as well as climbers from around the world, to intercede.
"It was crazy, but I made it happen. It's part of my Special Forces training. You're taught to come up with a solutions, not look for excuses."
For Nims that included selling his house and resigning from his job in the Special Boat Service, after the Royal Navy said his ambitions were "too risky".
The achievement, however, has not been without controversy. Mountaineers have criticised Nims for using supplementary oxygen above 7,500m and fixed ropes. The Everest luminary Chris Bonington suggested Nims' achievement will eventually be seen as a "footnote" in mountaineering history.
But it has also been celebrated, not least by Reinhold Messner, one of the world's greatest ever mountaineers and the first person to climb all 14 8,000m peaks. He described it as a "unique mountaineering achievement".
In the brutal world of high-altitude mountaineering, in which climbers have been known to pass stricken fellow mountaineers without offering assistance, Nims drew plaudits for twice risking his own life to help others.
The first time occurred while descending from Annapurna on 23 April – a few days into his effort – when he led a rescue of fellow climber Dr Chin Wui Kin, who had been separated from an accompanying expedition and left without food, water or oxygen for 40 hours. He later died in hospital.
Less than a month later on 15 May, having made it to the summit of Kanchenjunga in just 21 hours, Nims and his team rescued a further two climbers from a height of 8,400m, sacrificing their own supplementary oxygen to the climbers in need.
"For me it's not about ego," he said, explaining why he would put himself and his project at risk. "It's about principles. You can't call yourself a climber and not help in that situation."
For most non-Himalayan climbers, Nims first came to wider international attention earlier this year, when a picture he took of crowding on Everest's summit ridge went viral.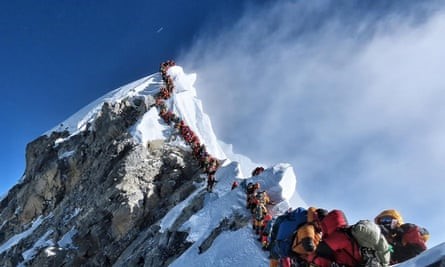 Nirmal Purja's picture of a crowded Everest summit was taken in May. Photograph: Nirmal Purja/Project Possible/AFP/Getty Images
Although he describes arguments that took place among climbers trying to ascend and descend through the bottleneck, he said he was personally "not fazed" by the experience, despite being slowed for hours on his summit day.
He hopes too that the international attention now focussed on his climbs will bring a higher profile to Nepalese mountaineers whose efforts are too often eclipsed by media coverage of western climbers.
"Nepalese guides get forgotten in the story often. Let's give credit to Nepalese climbing. I hope what I have done can come to be seen as an example of what can be done and what is possible for Nepalese mountaineering."
For the future, he has his eye on one of the great remaining prizes of 8,000m Himalayan climbing: a winter ascent of the world's second highest mountain and the only Himalayan giant not yet climbed in that season, Pakistan's K2.
Nims said he would not be surprised if someone climbs the 14 mountains faster.
"Records are made to be broken. Someone one day will come along and be stronger. People are only limited by their imagination. If you don't dream then you won't do it. Human beings are capable of doing amazing things."
Link: https://www.theguardian.com/world/2019/nov/01/nirmal-nims-purja-speed-climber-worlds-14-highest-peaks-everest
Nirmal Purja sets new world record and climbs all 14 "death zone" mountains in six months
In just 6 months and 6 days, Nirmal "Nims" Purja MBE has completed his challenge to summit Earth's 14 tallest mountains, smashing the previous record of almost eight years and taking his place in mountaineering history.
"I am overwhelmed and incredibly proud to have completed this final summit and achieved my goal of climbing the world's 14 tallest mountains in record time. It has been a gruelling but humbling six months, and I hope to have proven that anything is possible with some determination, self-belief and positivity. I could not have made it happen without the unending support of my friends and family who have been in my heart this entire time. We started with nothing, but look how far we've come," commented Nims.
Earth's 14 tallest mountains, all higher than 8,000m, enter the 'death zone' which is so-called because human life cannot exist there. This did not deter Nims, who joins a list of just 40 climbers to have completed what could be considered the ultimate mountaineering goal.
"I believed in this project and I made sure to surround myself with people who believed in it too. This was never just about me, which is the reason I've been able to overcome some huge obstacles on this journey. By achieving this goal, I knew I could inspire people from all generations, across the world," added Nims.
Nims began Bremont Project Possible when he reached the top of Annapurna on 23rd April this year and has accomplished this extreme feat of mountaineering with a rotating support team made up of exclusively Nepalese climbers.
The previous world records for one individual climbing all 14 peaks was 7 years, 11 months and 14 days held by Jerzy Kukuczka in 1987, and South Korean Kim Chang-ho who beat Kukuczka's record in 2013 by just 1 month and 8 days.
The clock stopped on Nims attempt at 08:58 local time (00:58 GMT) as he reached the summit of Shishpangma on 29th October, beating the world record by 7 years, 5 months & 8 days. Nims' incredible achievement consisted of 14 summits in 189 days:
Annapurna summited 23rd April
Dhaulagiri summited 12th May
Kanchenjunga summited 15th May
Everest summited 22nd May
Lhotse summited 22nd May
Makalu summited 24th May
Nanga Parbat summited 3rd July
Gasherbrum I summited 15th July
Gasherbrum II summited 18th July
K2 summited 24th July
Broad Peak summited 26th July
Cho You summited 23rd September
Manaslu summited 27th September
Shishapangma summited 29th October
On 22nd May, Nims reached the summit of Mount Everest along with 320 other mountaineers. It was on this climb that he took the photo seen around the world of a 'traffic jam' to reach the summit, bringing global attention to the mountain's dangerous overcrowding.
As well as smashing his overall goal of scaling all 14 of the world's 8,000m peaks in under 7 months, Nims has achieved a further six world records in the process:
The most 8,000m mountains summited in the spring season (6)
(Annapurna, Dhaulagiri, Kanchenjunga, Everest, Lhotse and Makalu)
The most 8,000m mountains summited in the summer season (5)
(K2, Nanga Parbat, Gasherbrum 1, Gasherbrum 2, Broad Peak – the first person to summit all
8000m peaks of Pakistan in one season and in just 23 days.)
The fastest summit of the three highest mountains in the world
The fastest summit of the five highest mountains in the world
The fastest summit of the lowest 8,000m mountains (Gasherbrum 1, Gasherbrum 2 and Broad Peak)
The fastest summit of the higher 8,000m mountains, with consecutive summits of Everest, Lhotse and Makalu in 48 hours (beating his own previous record of 5 days)
The Bremont Project Possible team included Nirmal 'Nims' Purja and his Nepalese companions Mingma David Sherpa, Geljen Sherpa, Lakpa Dendi Sherpa, Gesman Tamang and Halung Dorchi Sherpa, along with Dawa Sherpa who acted as a base camp manager.
Bremont Project Possible also gave Nims' Nepalese team of Sherpa guides the chance to have their own achievements recognised on the world stage, with Mingma David setting the record for the youngest person to summit all 14 of the Earth's highest mountains (completing 9 of these summits during the project).
On 23rd April, just days into his world-record attempt and descending Annapurna, Nims led a successful rescue attempt to find fellow climber Dr Chin Wui Kin, who had been separated from an accompanying expedition and left without food, water or an oxygen bottle for 40 hours. On 15th May, having made it to the summit of Kanchenjunga in just 21 hours, Nims and his team rescued a further two climbers from a height of 8,400m and sacrificing their own supplementary oxygen to the climbers in need.
Nims has a history of carrying out daring rescues during his expeditions, and in 2016 saved the life of an Indian climber in the Mount Everest death zone, taking her down 500m from an altitude of 8450m single handedly.
Nims will next be climbing Ama Dablam in the Himalayas to plant a poppy for Remembrance Day commemorations on 11th November.