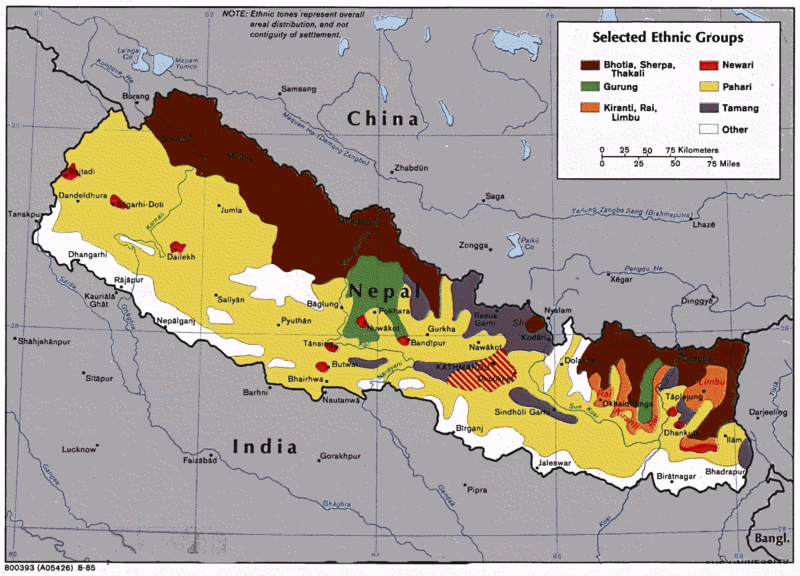 ---
Above a map of Nepal showing locations of the main ethnic communities locations. Below, from Mr Thomas Pouncy, an emblematic street photo from Kathmandu.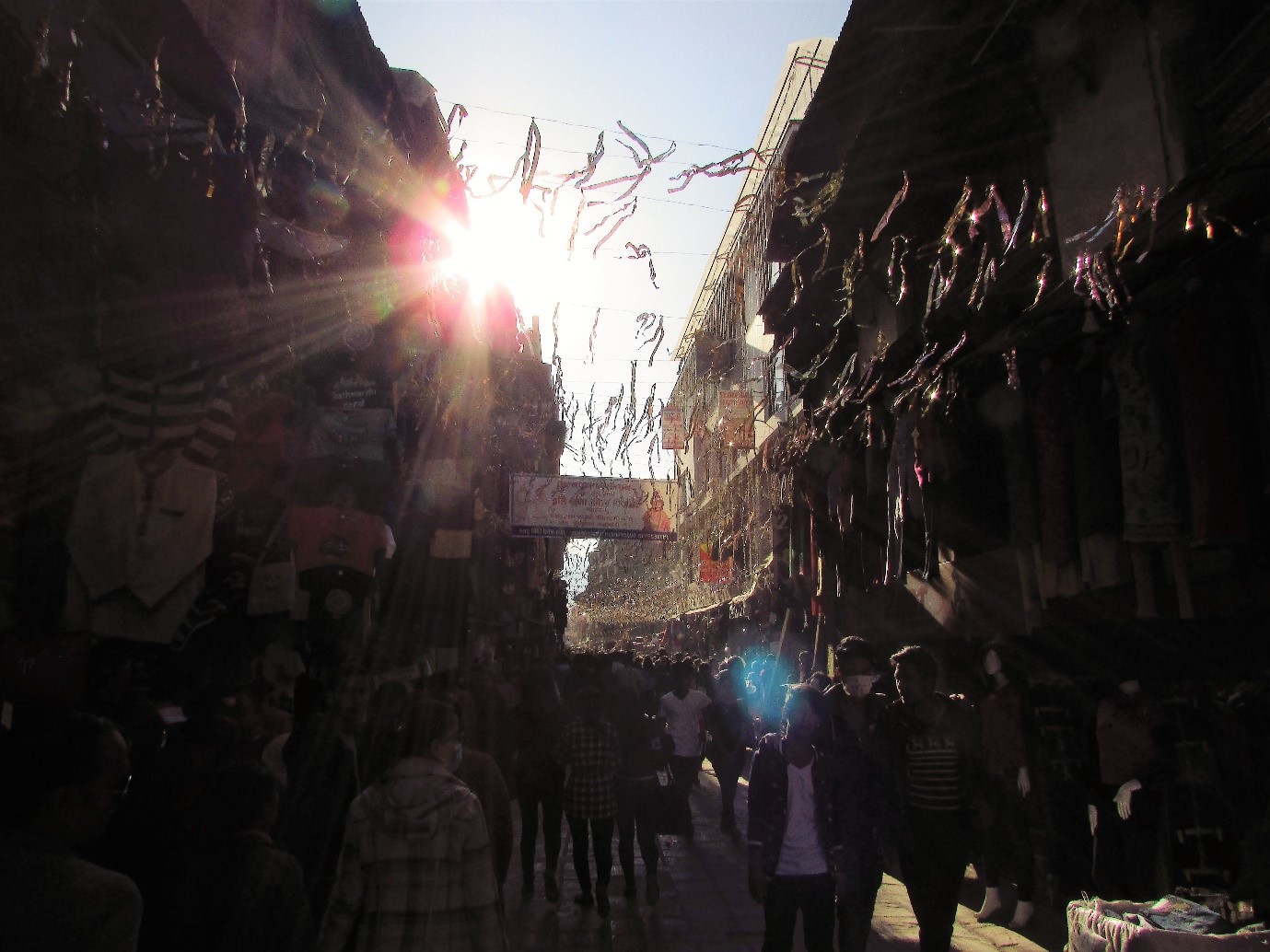 ---
This special gallery was proposed by a number of major contributors of content to the UK Nepali cultural & social heritage project information resource. These including, but not limited to the following:
Mr Gyan Gurung (Nepalese Association Wiltshire, President); Mr Hiradhan Rai (UKNFS Chief Advisor) and Mrs Rojina Pradhan Rai (NRNA UK Vice President and UKNFS Brand Ambassador); Mr Deepak Tamrakar (UKNFS Arts Section lead officer); Dr Rajeeb Kumar Sah (Canterbury Christchurch University [Canterbury, Kent] Public Health Senior Lecturer UKNFS UK NHS and Public Health Advisor); Mr Tom Pouncy; Mr Shankar Adikari; Alan Mercel-Sanca (UKNFS CEO).
---
We have taken a different, off the usual tracks approach to the development of this important gallery, including looking at less well-known facets of Kathmandu, reporter locations of off the main tourist tracks.
We commence this gallery page by sharing through the links below the amazing and important work of the Nepal National Trust for Nature Conservation (NTNC) — a cutting edge 2020s globally important green economy, local communities respectful & engaging in its crucial work at NTNC localities levels (the NTNC has responsibility for environment care of approximately a third of the territory of the nation including the national parks: the NTNC is also a gender equality and minorities social inclusion proaactive organisation (GESI). Please see — https://ntnc.org.np/thematic-area/protected-areas-and-ecosystems and https://ntnc.org.np/thematic-area/cross-cutting and https://ntnc.org.np/index.php/thematic-area/environmental-education-research-and-knowledge-management

This section of the website is the only one which from the time of formal launch (April 2021) is open to be expanded and updated in major ways for new contributions, and has a context link back to the Home Page of this educational Nepali – UK multicultural heritage project website.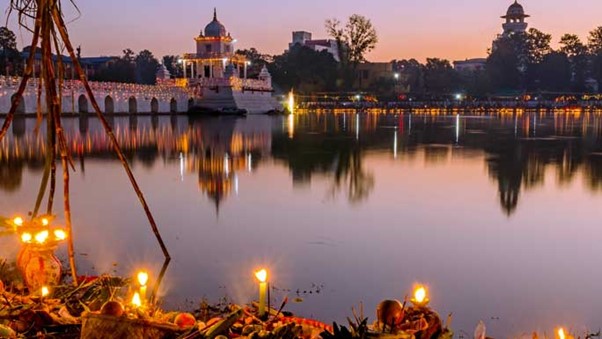 The page/gallery purpose is based in the phenomenon of the deep love UK Nepali community members have to share with the British and broader Western lands (especially Ireland) general public and peoples, concerning their lands, towns, villages, and cities of origin. This phenomenon has also being added to by UKNFS friends and supporters in the Nepal such as Mr Shankar Adhikari, who have contributed to in relevant areas support and educational images on this website and accompanying e-book/PDF resource.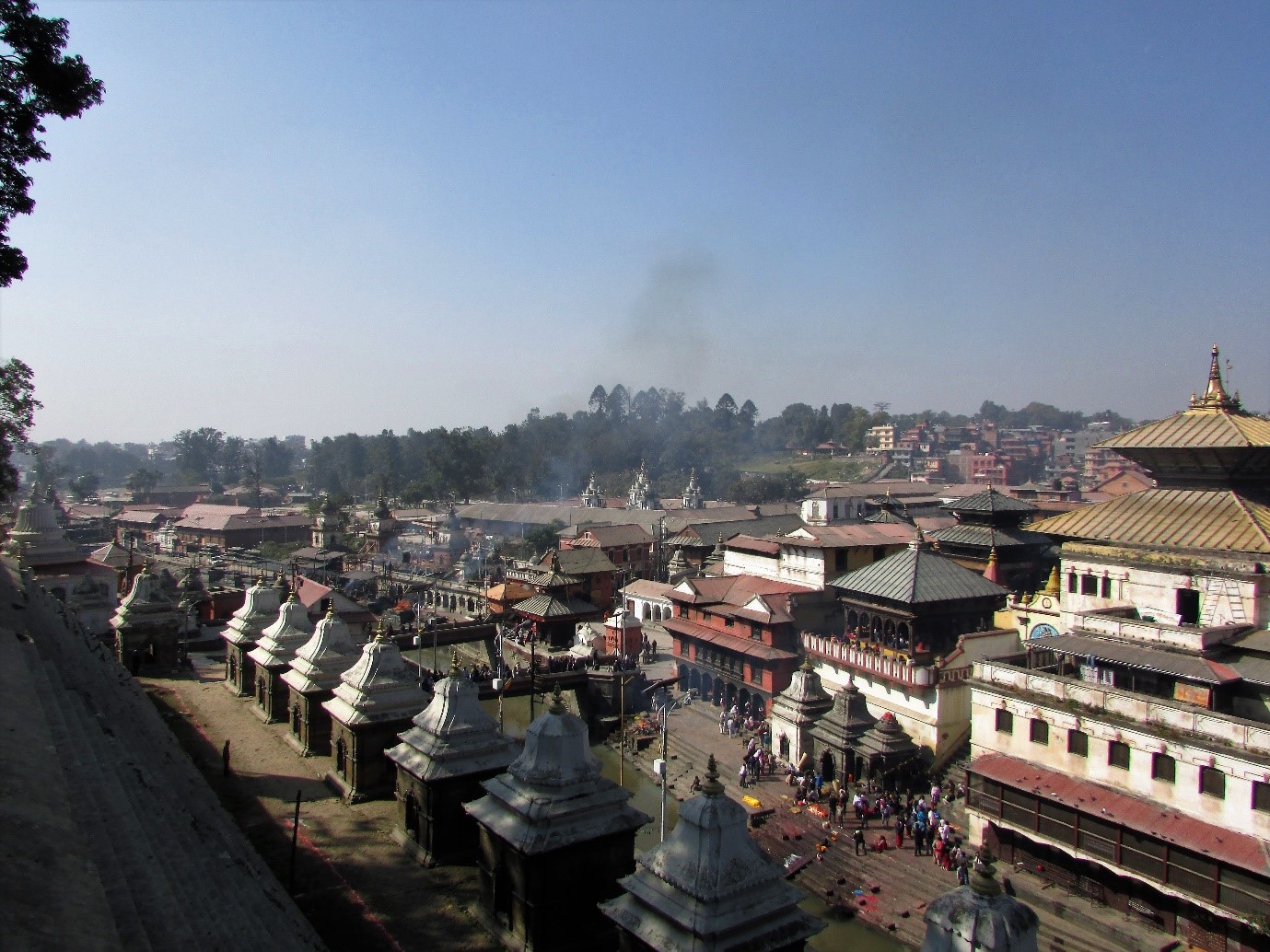 As such it also provides a first of it's kind, structured, predominantly overseas community leads and/or experts 'ambassadors' for visiting Nepal on cultural and more in-depth travel purposes, much needed non-commercial online platform.
---
Dadeldhura (the Far West)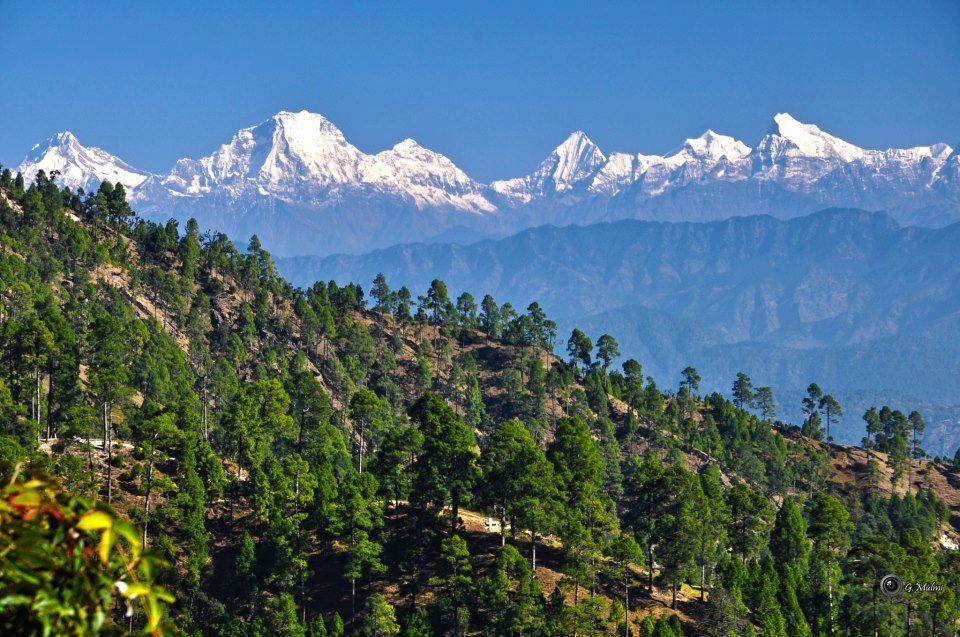 A view of the Himalaya from Dadeldhura: information link: https://en.wikipedia.org/wiki/Dadeldhura_District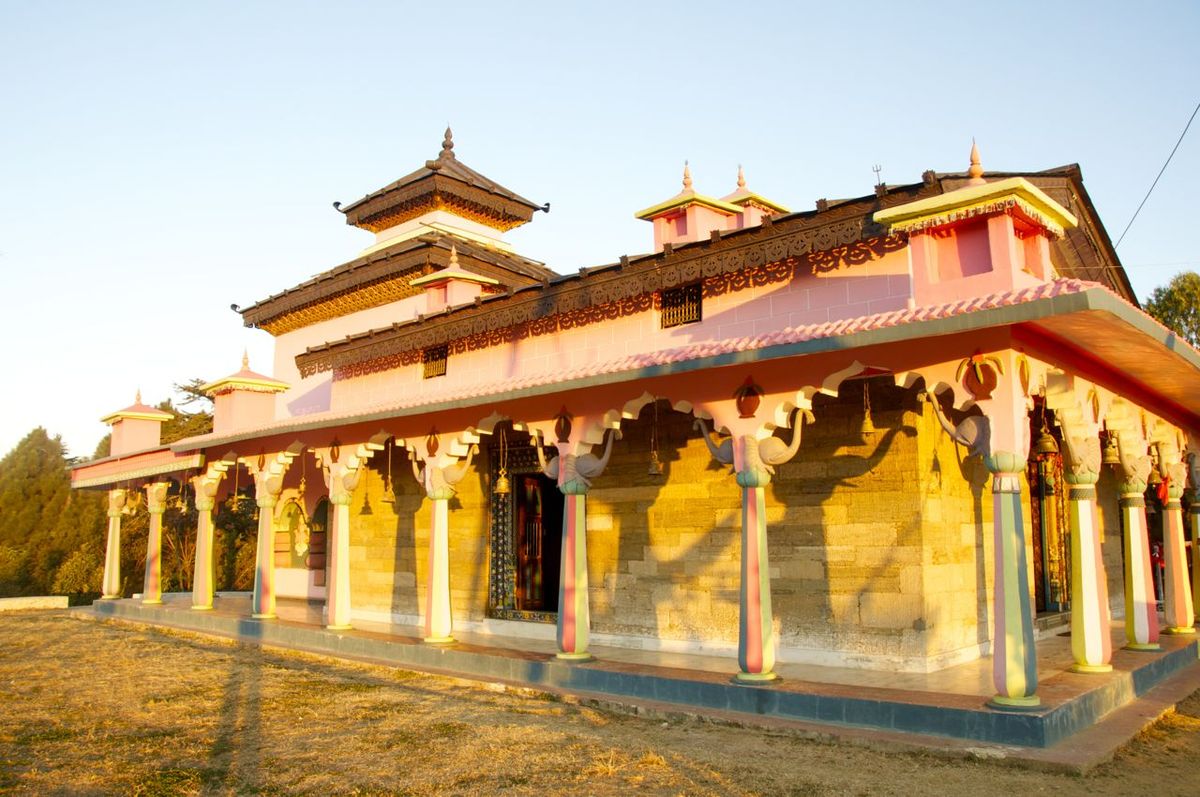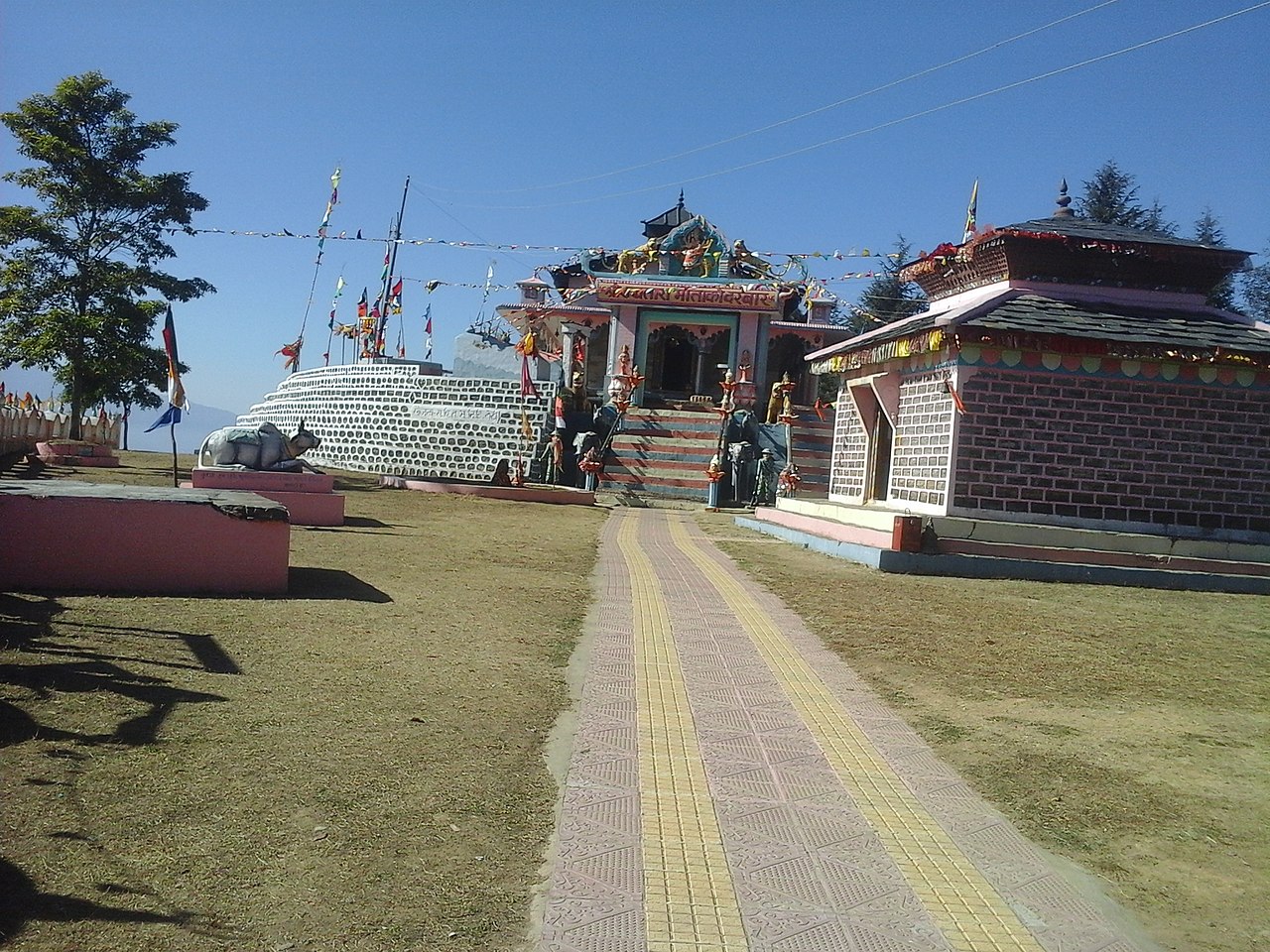 Ugratara Temple, Amargadhi (Dadeldhura) — famous Hindu pilgrimage desternation whose temple is dedicated to the Goddess Ugratara, a form of the Goddess Parvati: https://www.khojnu.com/places/nepal/central-development-region/kathmandu/attractions/ugratara-temple/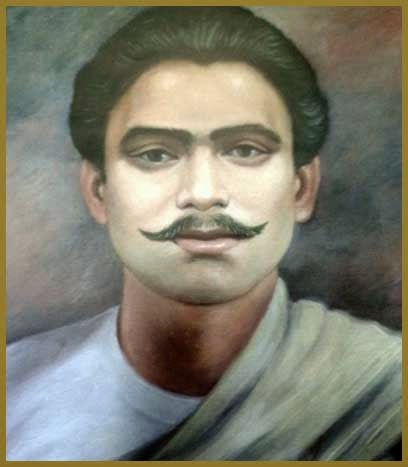 Bhim Datta Pant of Dadeldhura, Far West Nepal/Mahakali and broader Northern South Asia's 'Robin Hood' — patriot and martyr: https://en.wikipedia.org/wiki/Bhimdatta_Panta
Images of Ghandruk kindly provided by Mr Gyan Gurung (President of the Nepalese Association of Wiltshire): home village of Mr Gurung. Link: https://en.wikipedia.org/wiki/Ghandruk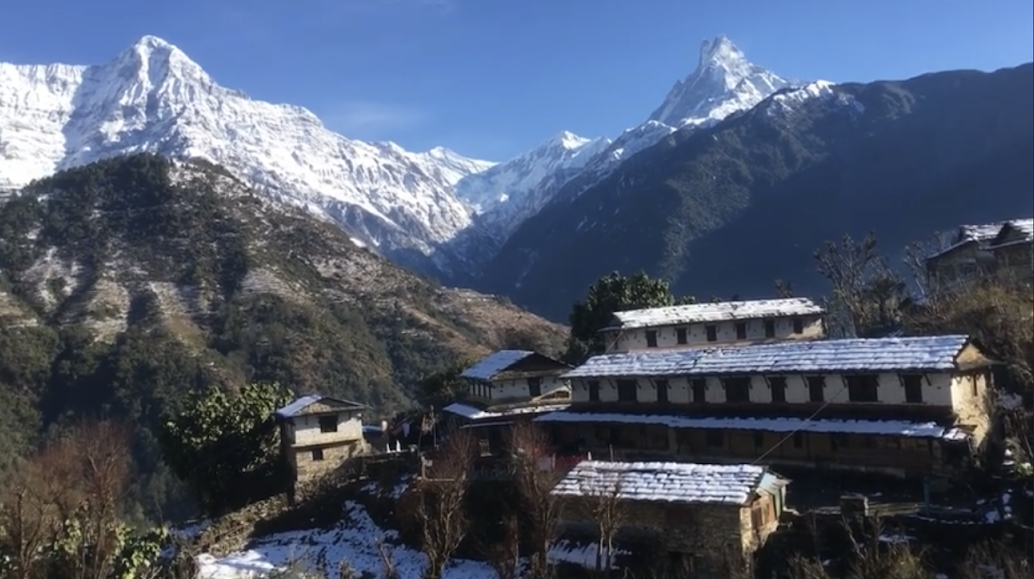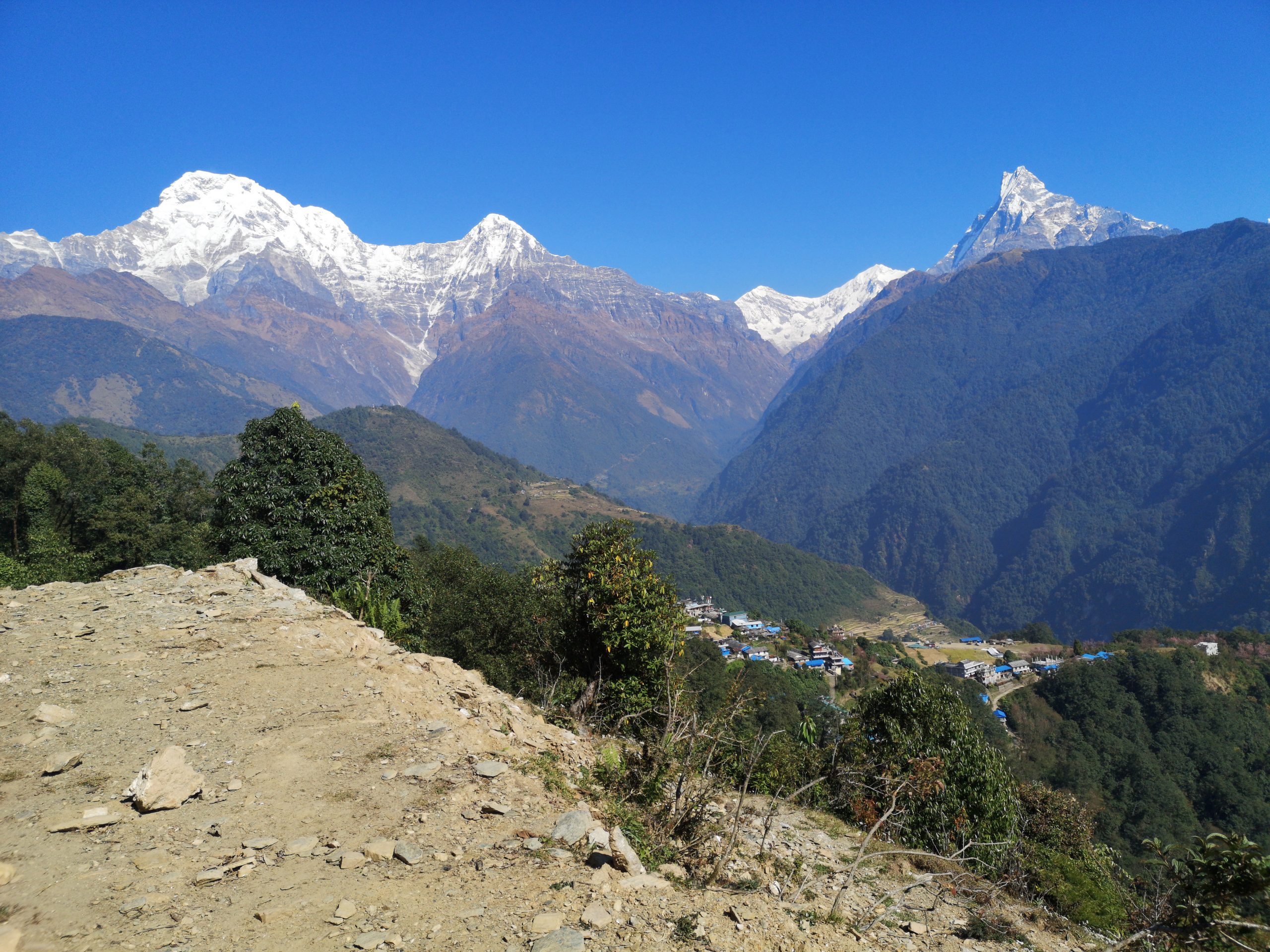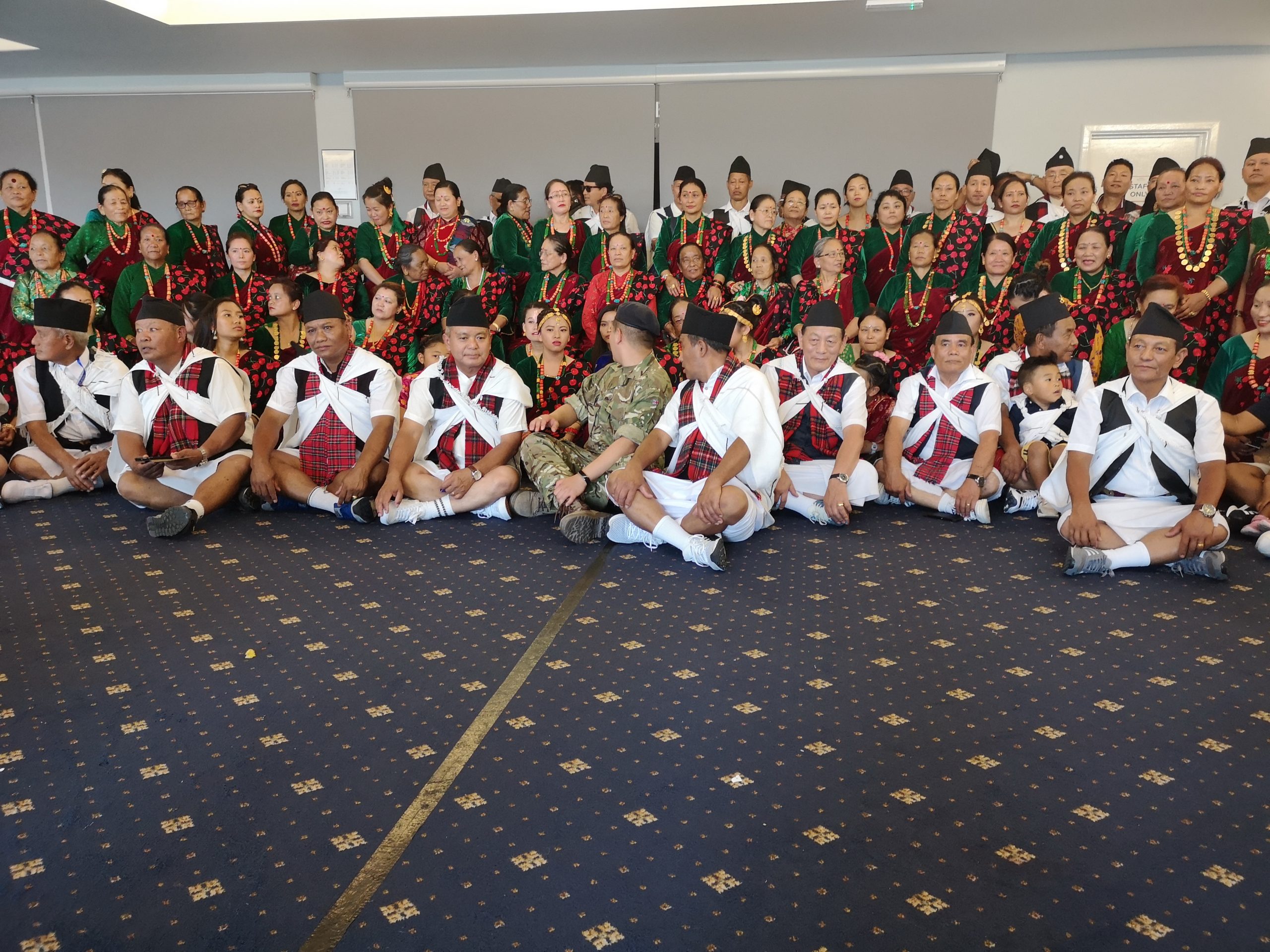 A community cultural celebtration occasion meeting in Ghandruk
View of ancient Newari architecture in central Bhaktapur: https://en.wikipedia.org/wiki/Bhaktapur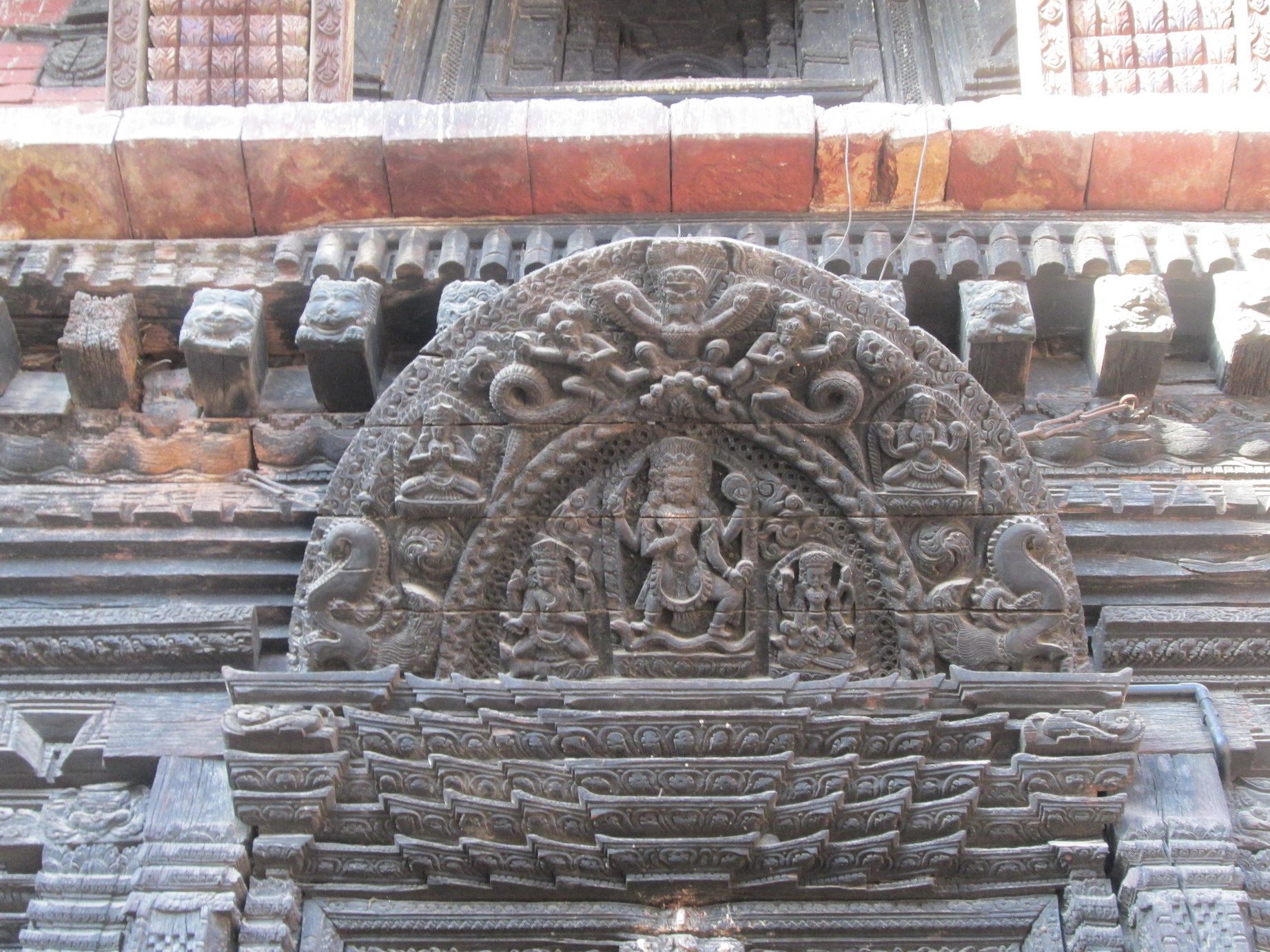 Stone carved doorway in Bhaktapur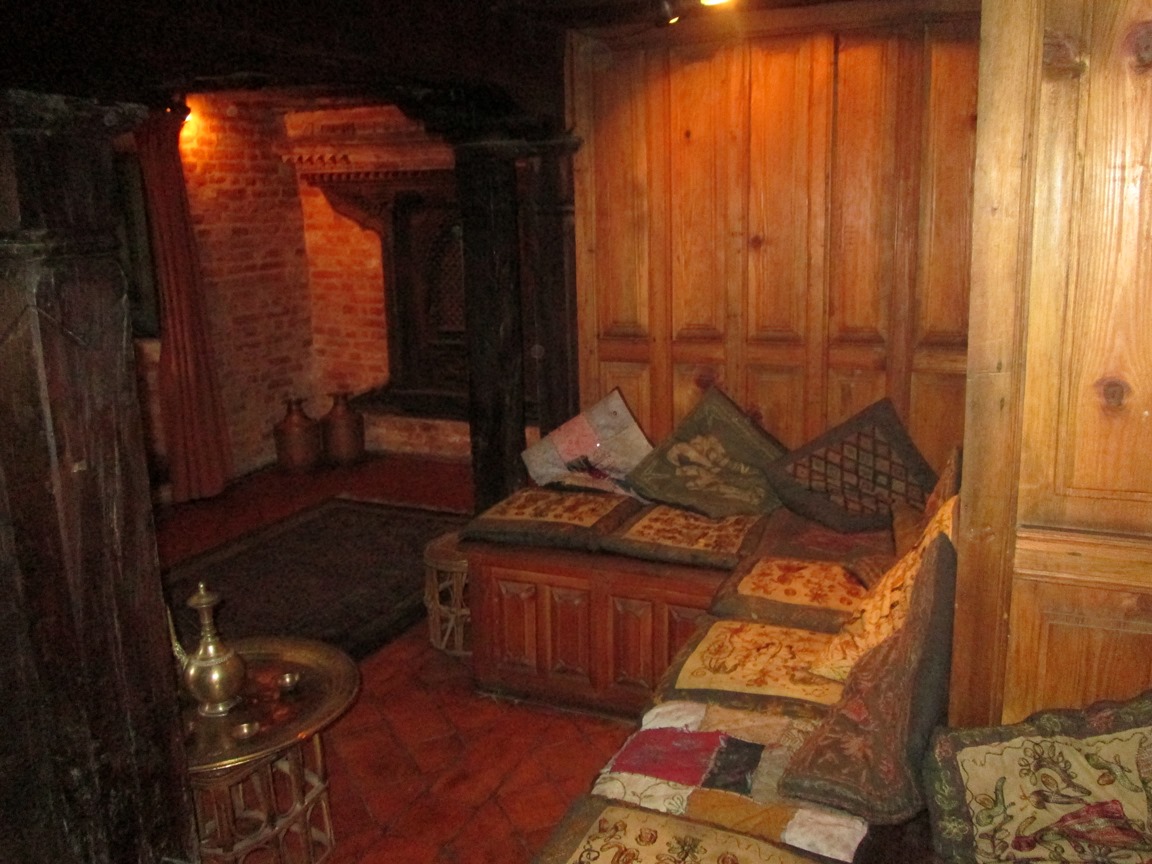 An interior view of a room in the beautifully restored by the internationally renowned conservation architect, Mr Rabindra Puri, 'Namuna Ghar' (Model House), Bhaktapur: http://www.rabindra.com.np/project/namuna-ghar/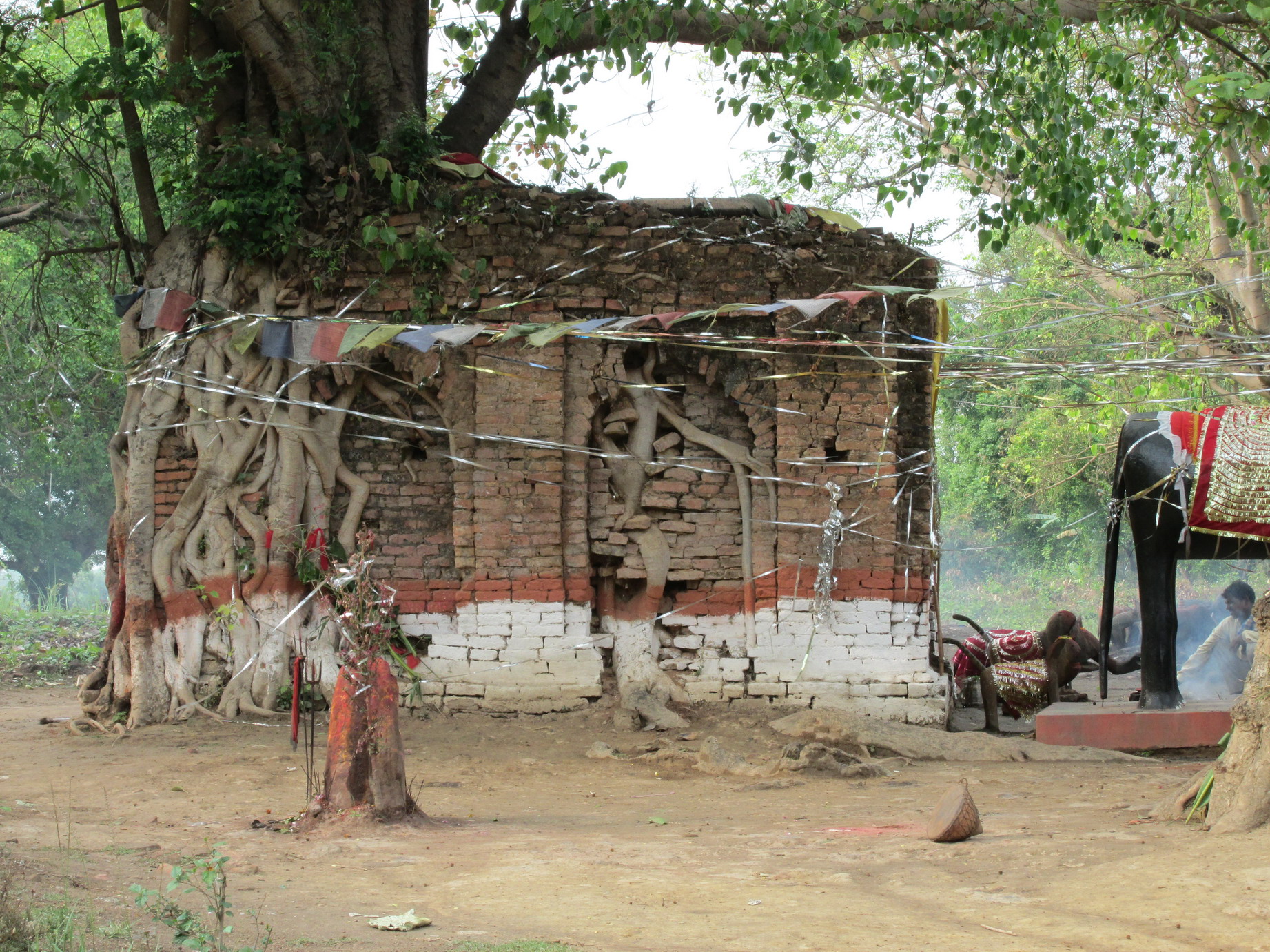 Hindu temple built into a tree at Tilaurokot (ancient Kapilvastu: palace where the Lord Buddha grew up)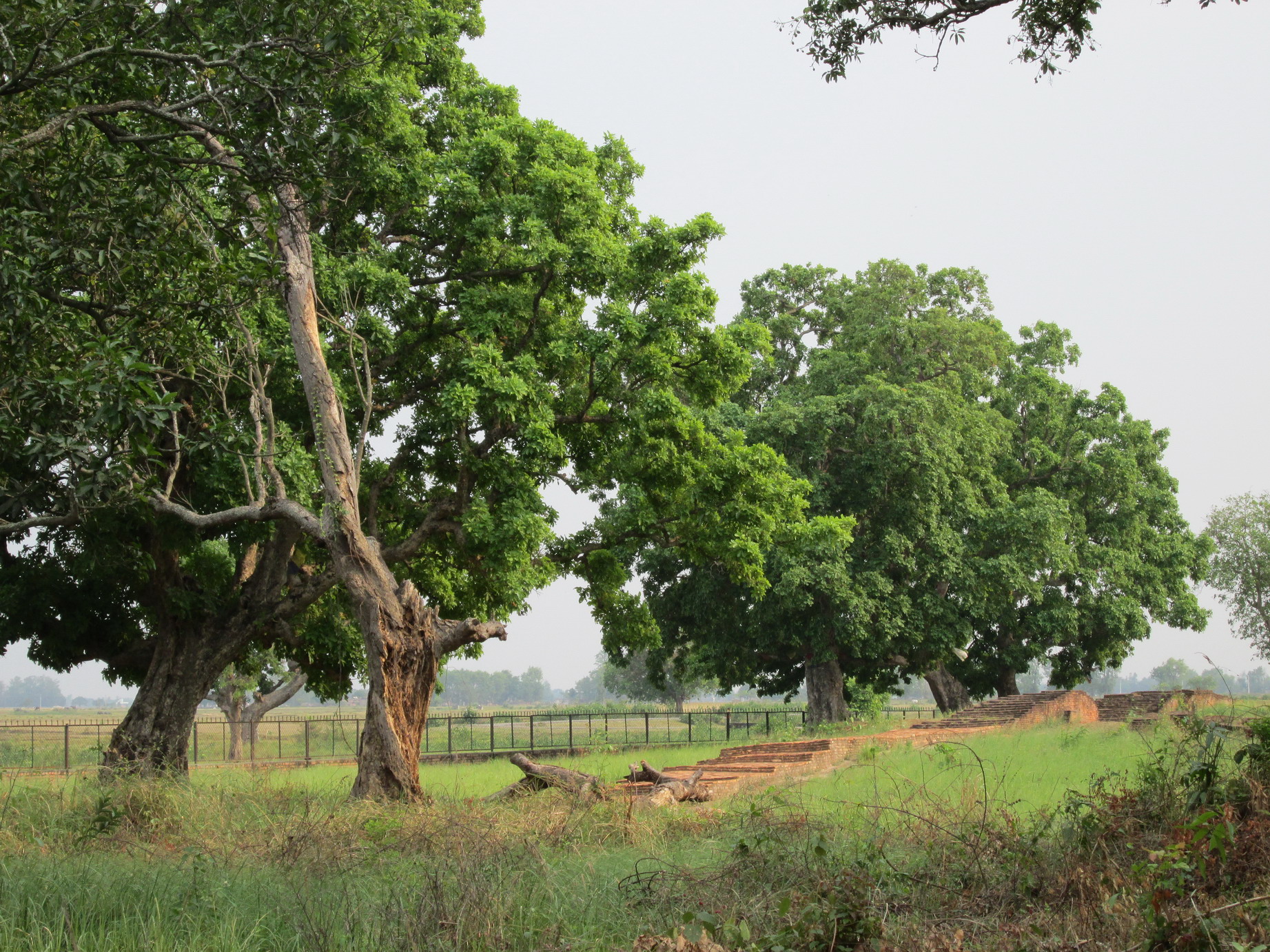 Ancient trees at Tilaurokot: ancient Kapilvastu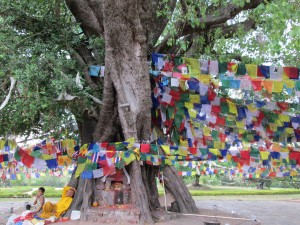 Ancient tree at Lumbini — birthplace of the Lord Buddha — one of the four most important Buddhist pilgrimage destinations: https://en.wikipedia.org/wiki/Lumbini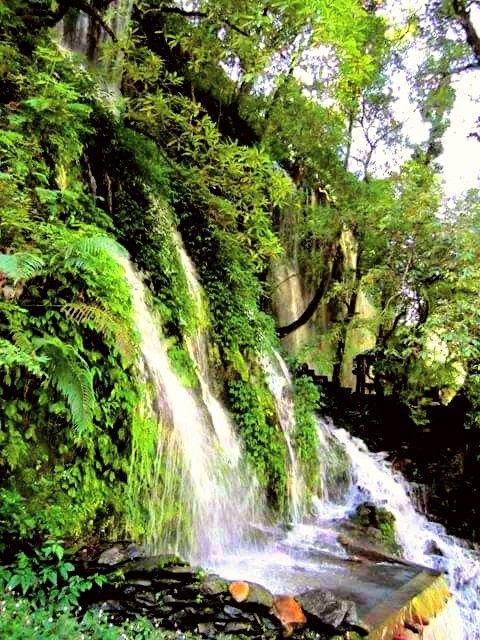 Waterfall in the Pyuthan – Gaumukhi district: https://en.wikipedia.org/wiki/Gaumukhi_Rural_Municipality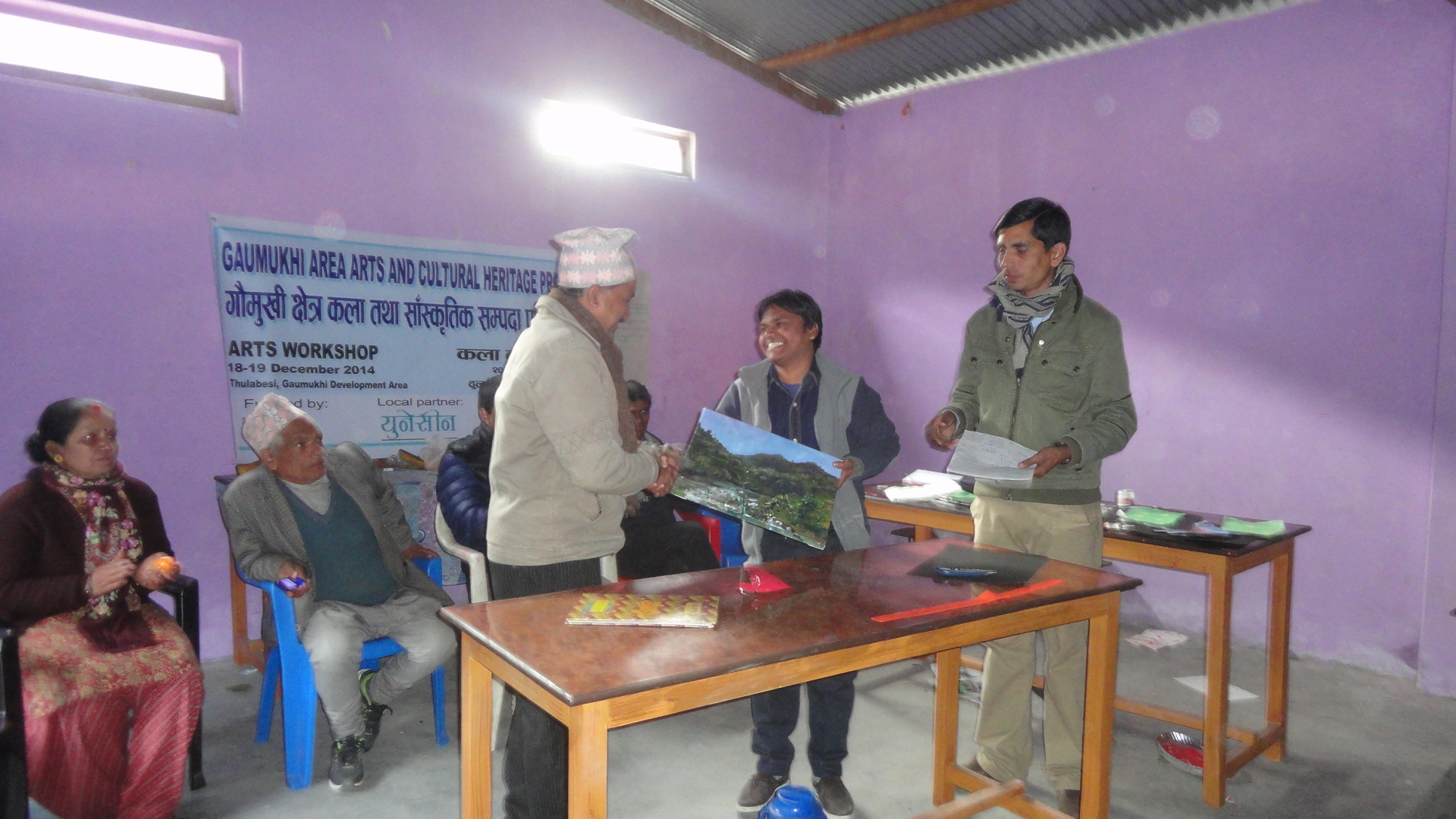 Presentation of a painting at the end of a two-day whole community arts development project (2014) in which the UKNFS 'Nepal International Art Programme' (NIAP) with local community support organisation UNESEEN: http://creativenepal.co.uk/nepal-niap-projects-gallery/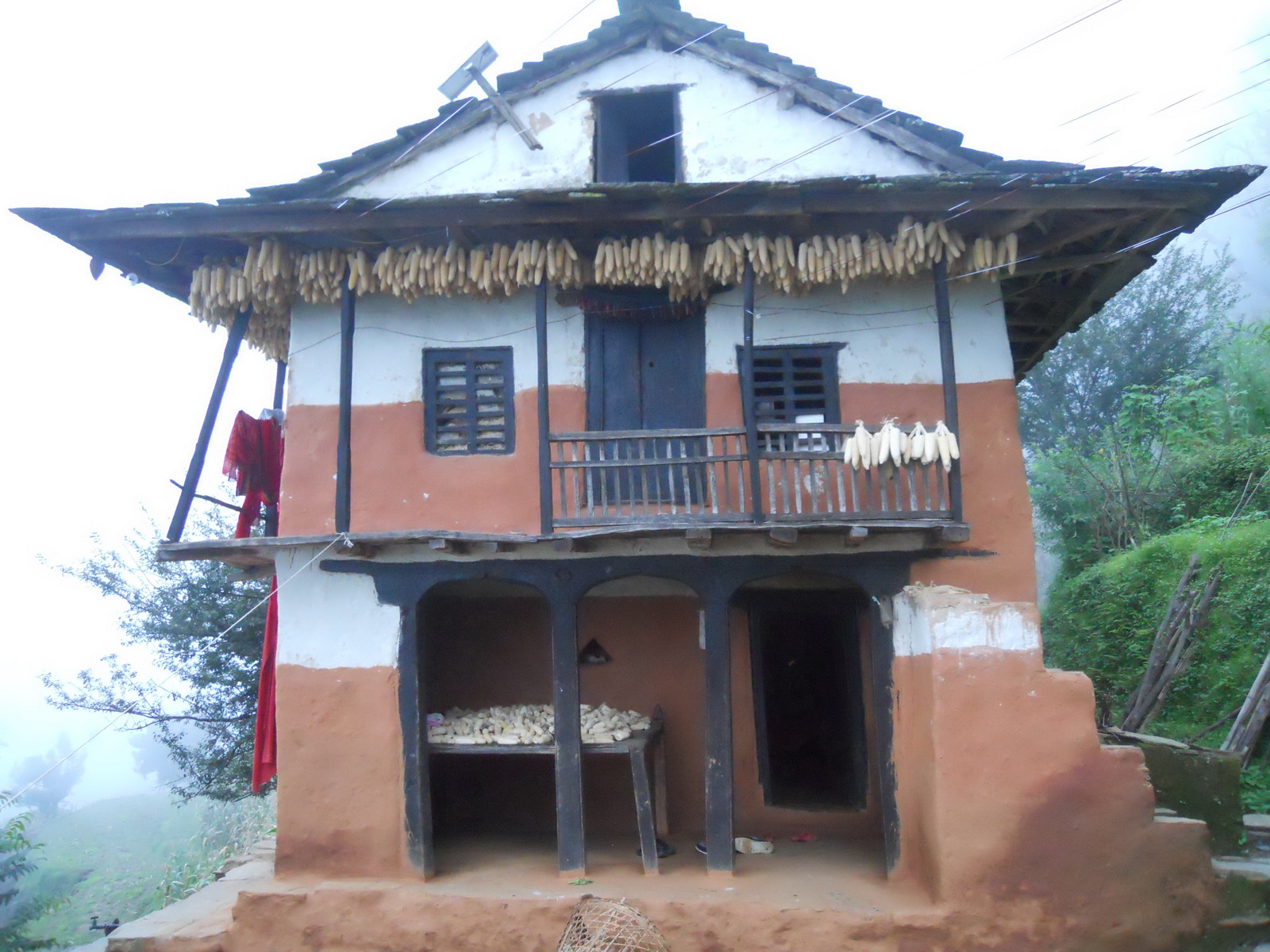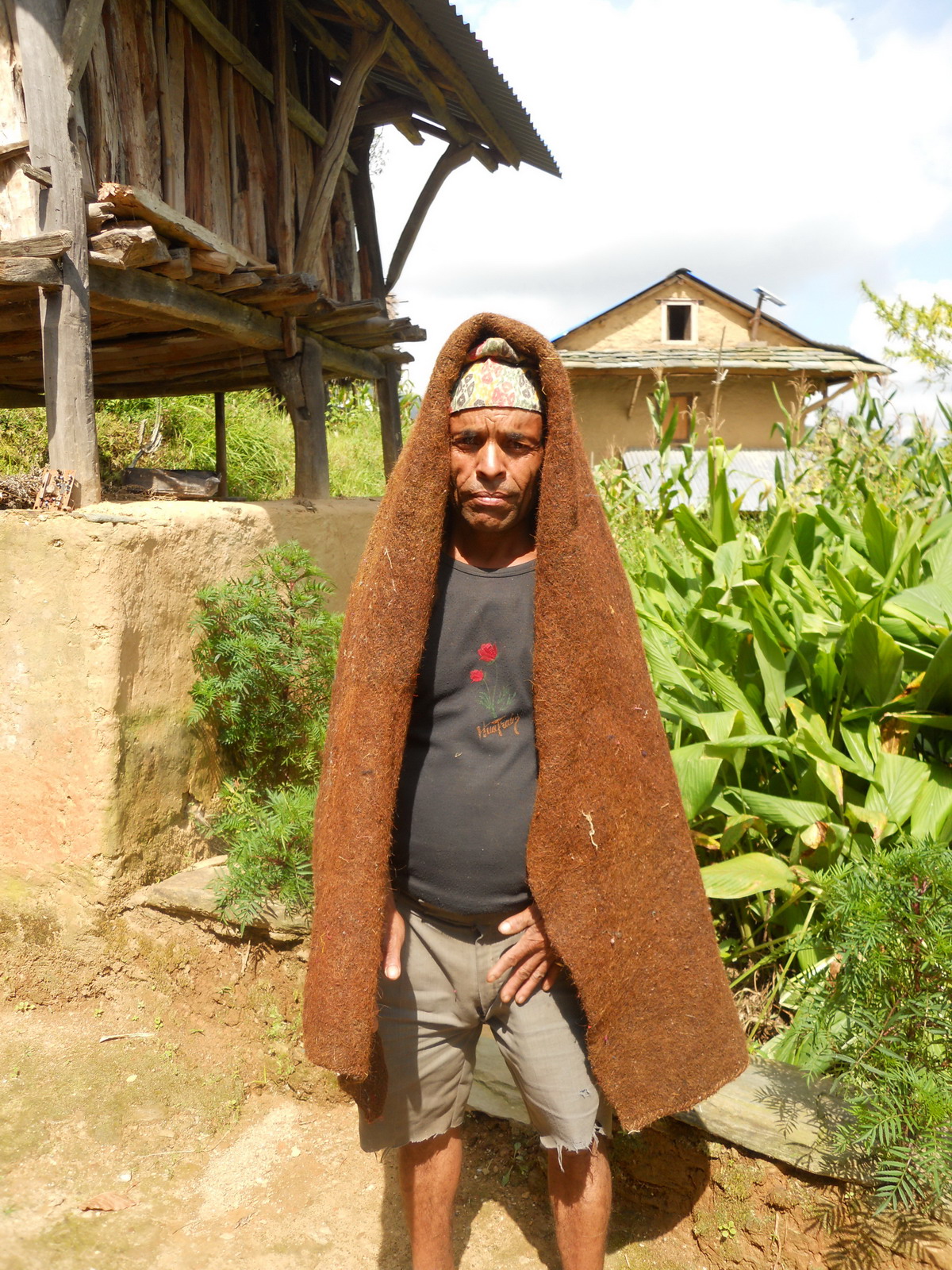 The two images above (traditional region-style home with maize drying from the eves of the house: local area traditional 'Ghum' overcoat to protect against rain and cold in undertaking out of doors agricultural and other activities) kindly provided by Mr Gautam Neupane on behalf of the Pyuthan-Gaumuki-Dorpatan Western Nepal area UNESEEN community support organisation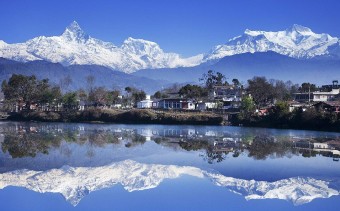 Pokhara, with Fishtail Mountain in the background and Phewa Lake in foreground: https://en.wikipedia.org/wiki/Pokhara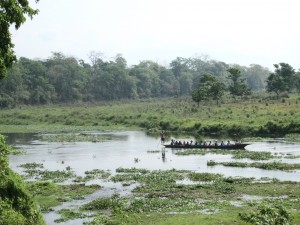 Chitwan (Terai) one of Nepal's largest cities, and gateway to the Sauraha – Chitwan National Park — https://en.wikipedia.org/wiki/Sauraha — one of Nepal's most famous travel destinations): https://en.wikipedia.org/wiki/Chitwan_District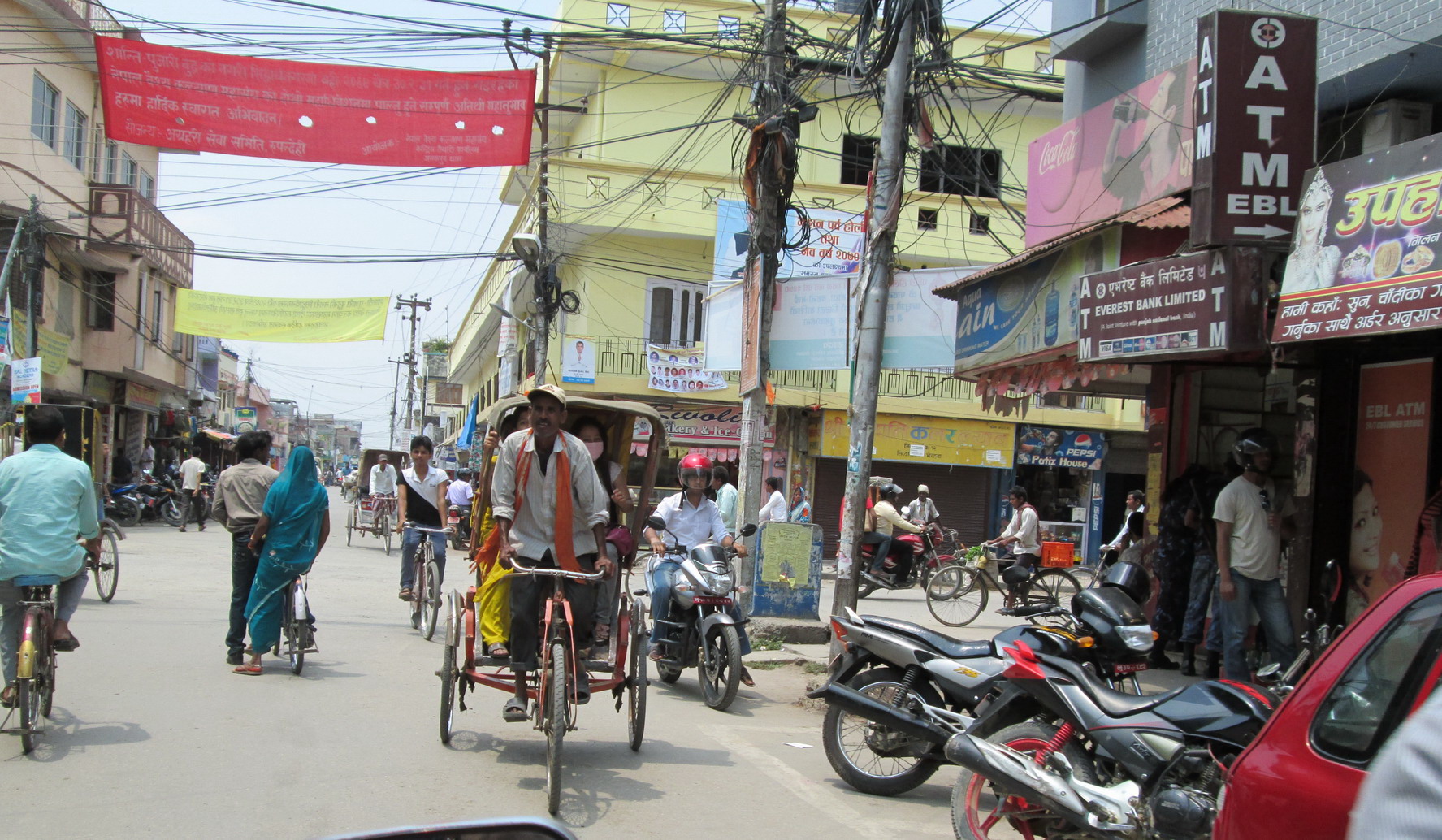 Terai Chitwan – Lumbini area main street image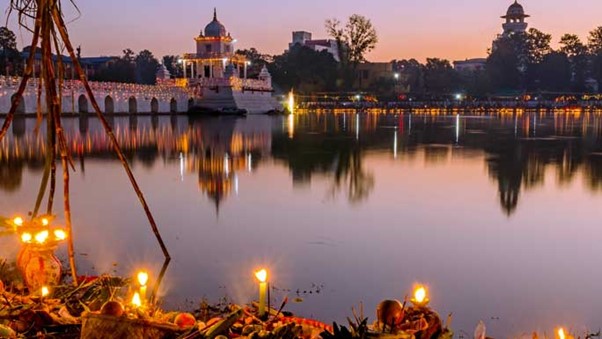 Janakpur — Birthplace of the Sita (https://en.wikipedia.org/wiki/Sita), Goddess of Sacrifice, Purity, Love and Simplicity: https://en.wikipedia.org/wiki/Janakpur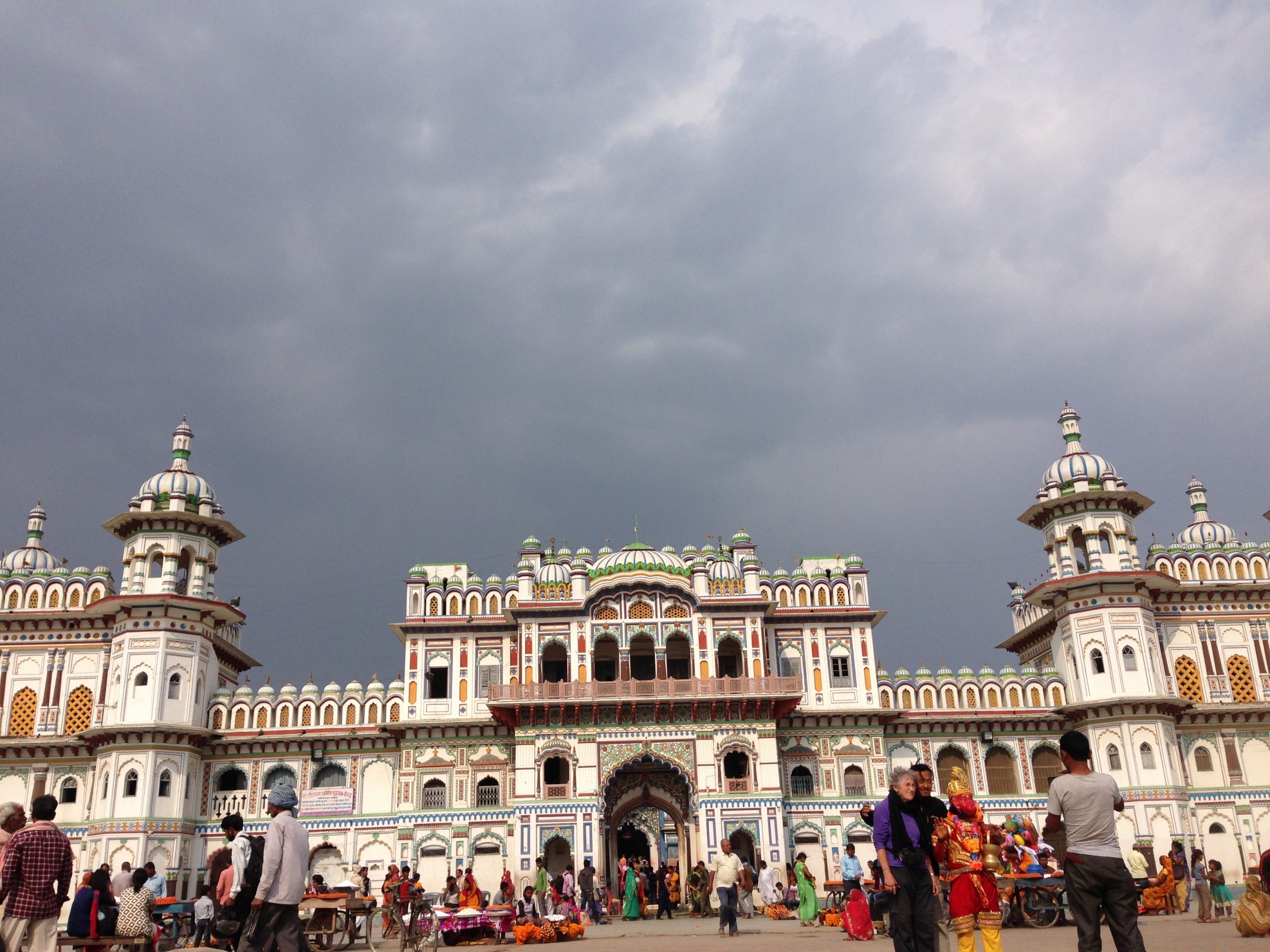 Janaki Temple of Janakpur: Janakpur is one of the major pilgrimage destinations of the Hindu world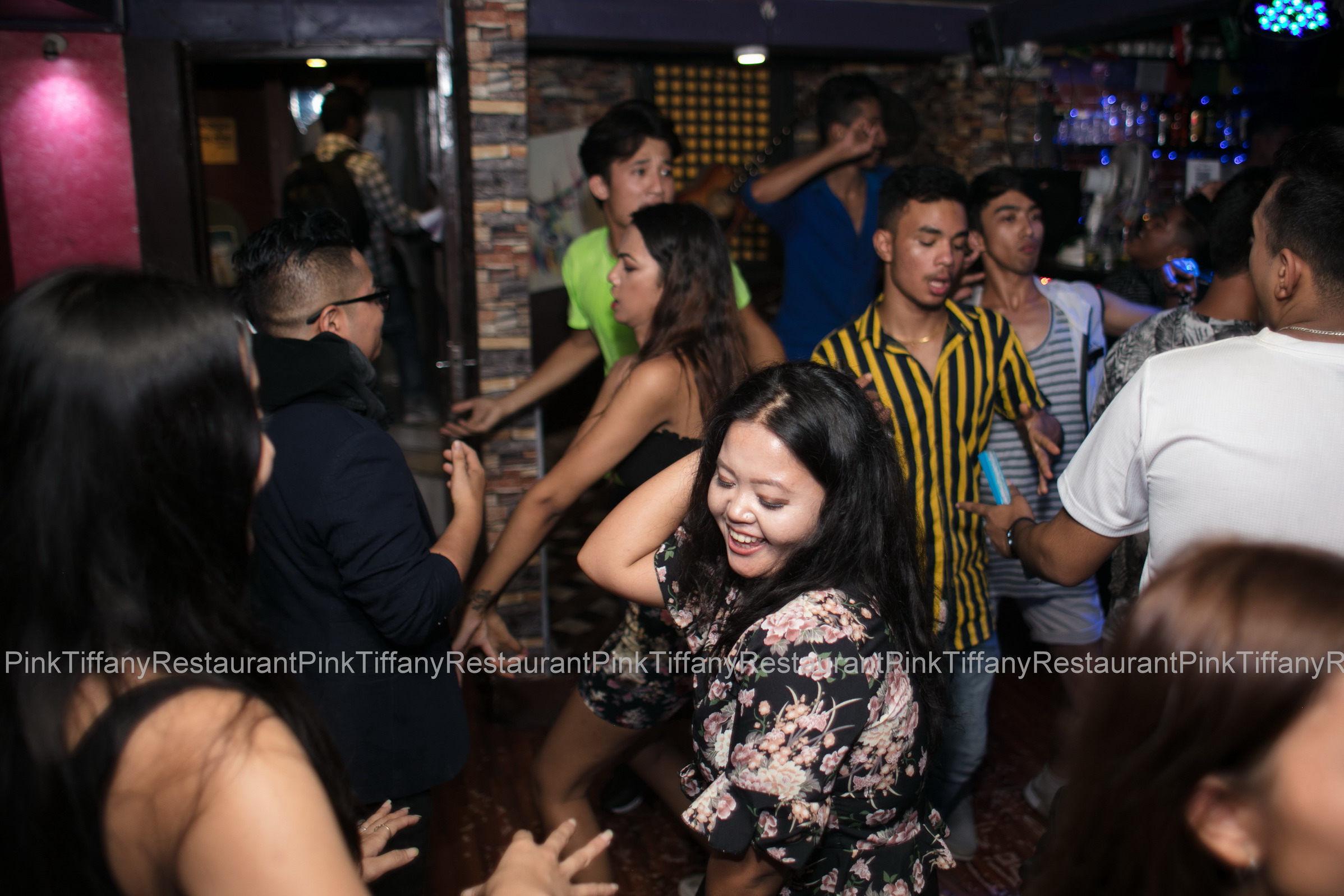 Above image from Inclusive international, arts, and LGBT+ friendly (Nepal has one of the most progressive LGBT+ inclusive laws, including recognising Trans / Third Gender status on Nepali passports thanks to work in the mid-2010s by the Blue Diamond Society and FSGMN: in broader society Nepal still remains largely very conservative on LGBT+ inclusion) Thamel social venue (Pink Tiffany restaurant) 2019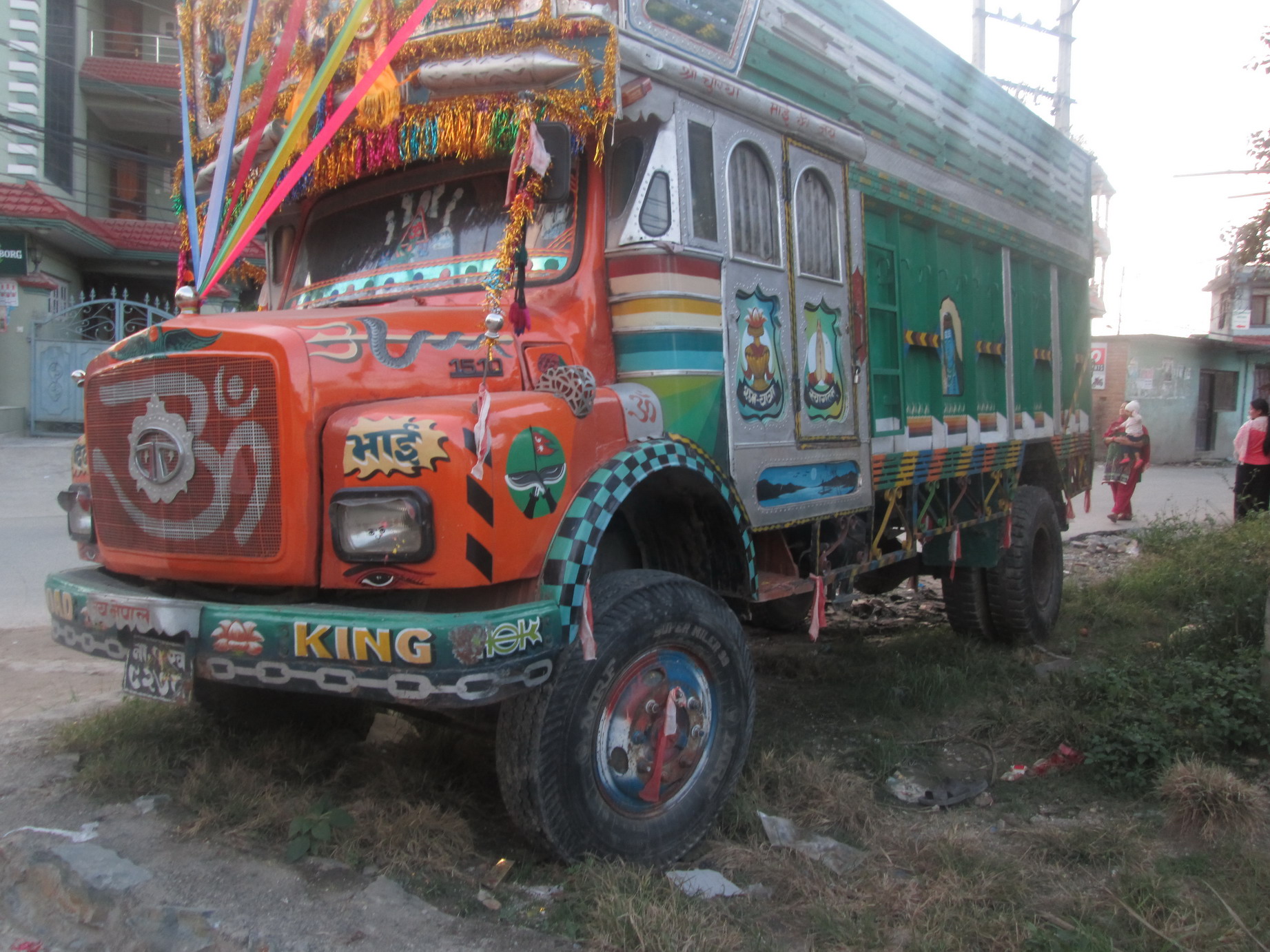 Kathmandu 2015: lorry painted with Hindu spiritual symbols — Nepal has an approximately 80% Hindu religious beliefs culture population (equalling that of the Republic of India)
Image above of Sangita ji, whose story on work by UKNFS partner in Nepal the Janaki Women Awareness Society (JWAS: https://jwas.org.np/ ) can be accessed at https://www.populationmedia.org/2020/10/06/international-day-of-the-girl-sangitas-story/ JWAS logo below: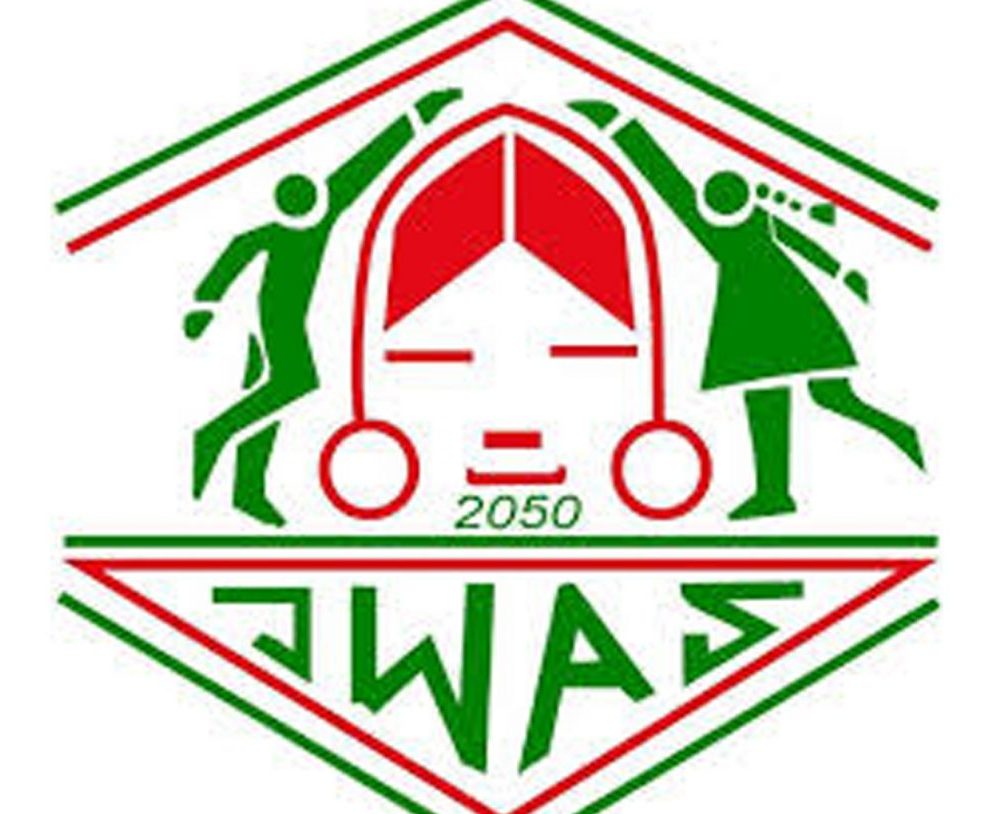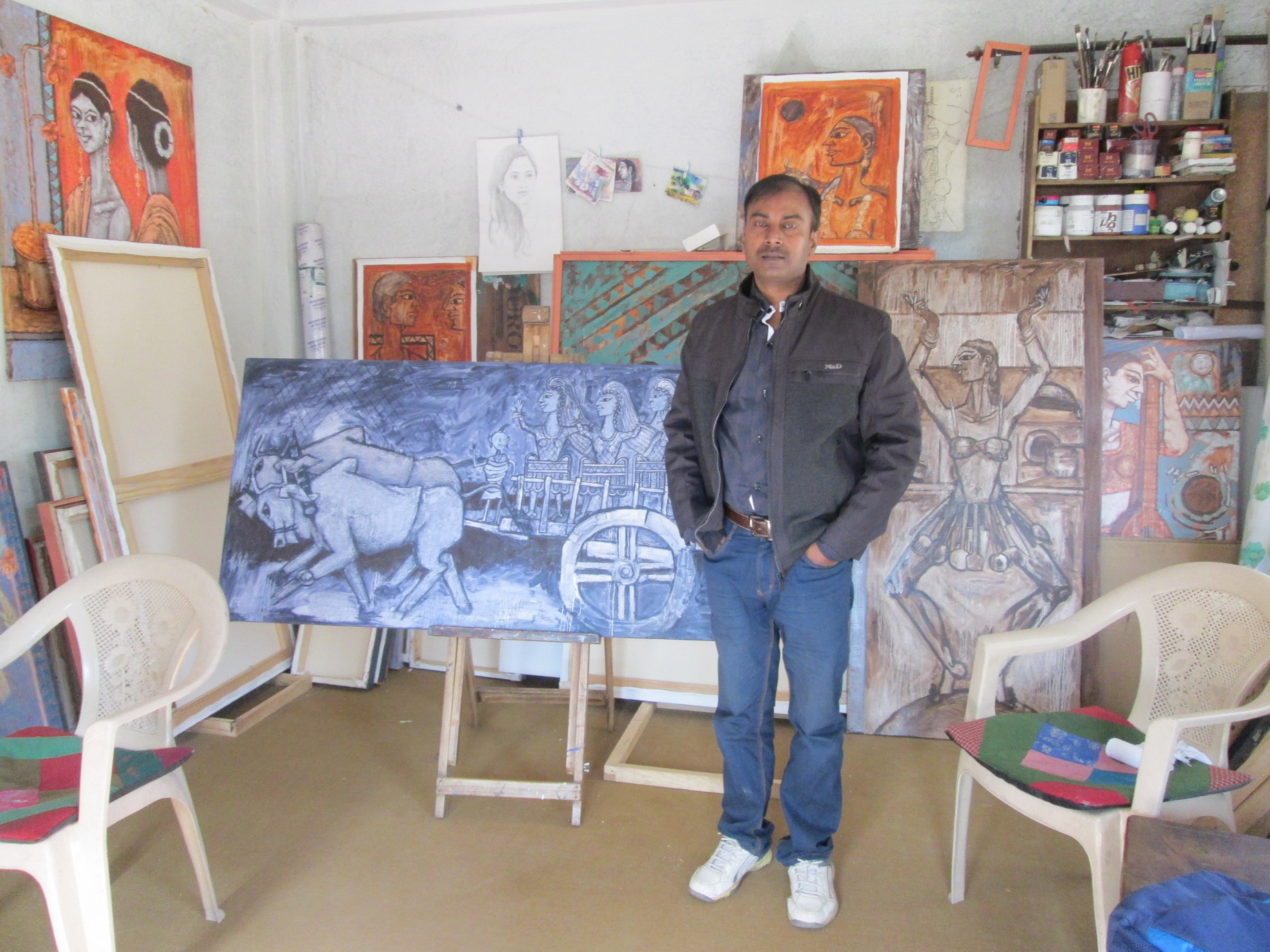 Umesh Shah ji in his Kathmandu Studio in 2013 on the occasion of a vist from UKNFS CEO Alan Mercel-Sanca, with participation by UKNFS arts programme advisor and co-initiator Deepak Tamrakar. Mr Umesh Shah is one of the highest international level recognised contemporary Mithila artists: https://kathmandupost.com/art-culture/2019/05/25/umesh-shahs-lays-bare-his-history-hopes-and-desires-in-rhythm-in-roots-20190525210158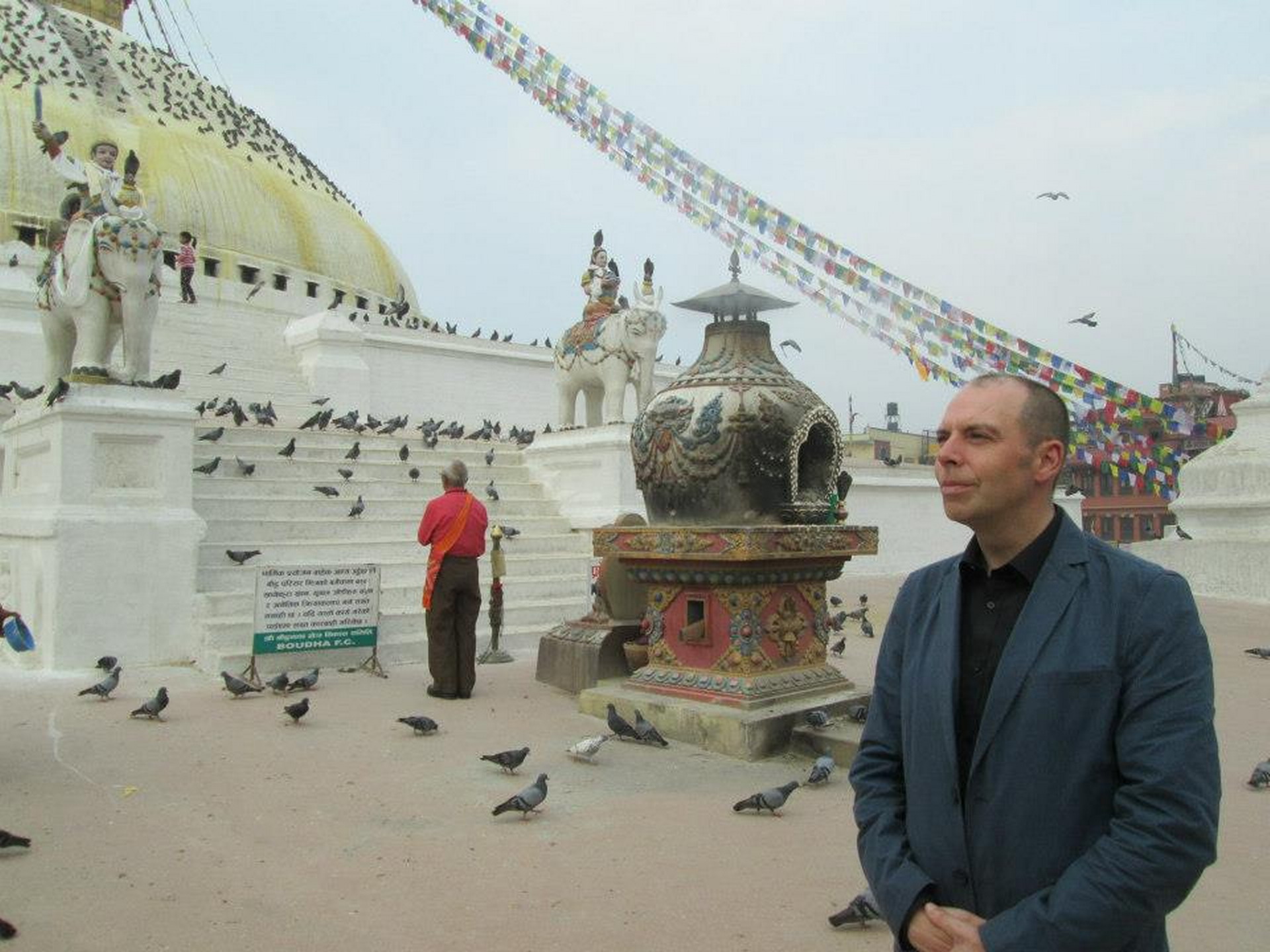 Alan Mercel-Sanca: UKNFS CEO and co-initiator of the UK Nepal Friendship Society. Image taken in 2013 at Boudhanath Stupa, Kathmandu: https://en.wikipedia.org/wiki/Boudhanath