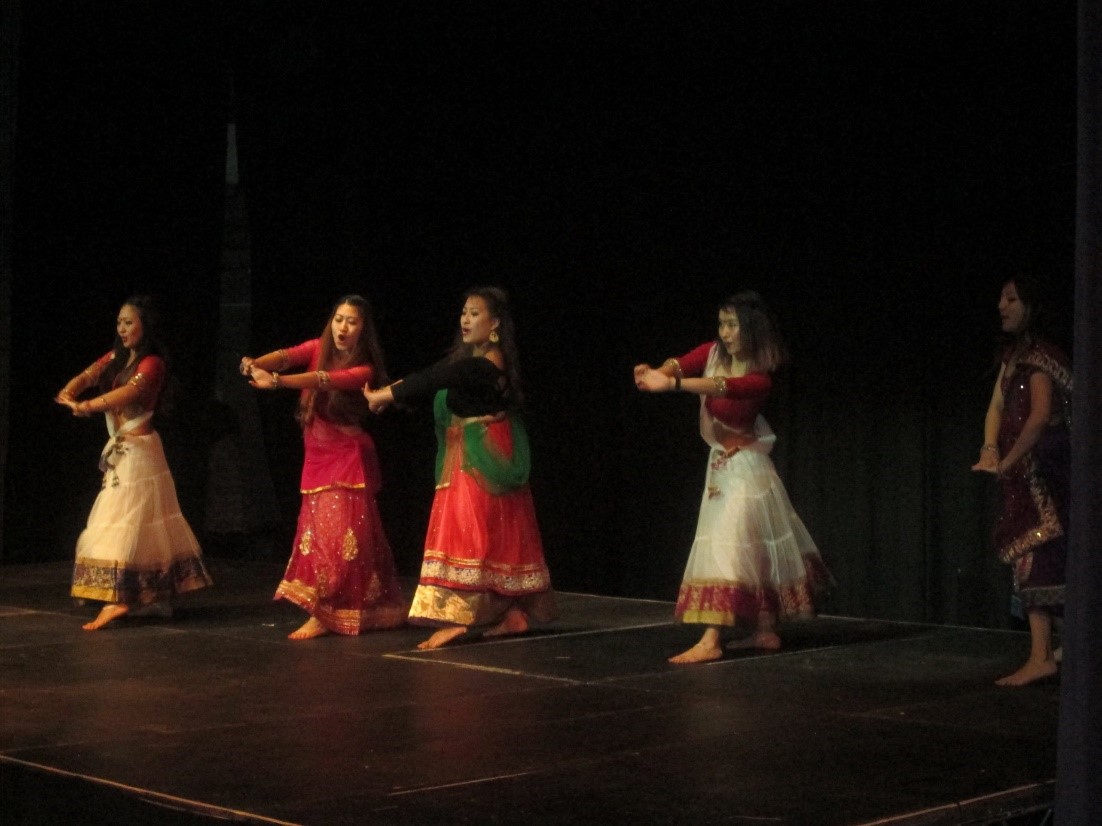 Nepali 'geet' (Nepali song) and Nepali 'naach' (Nepali dance) are absolutely fundamental parts at the heart of diverse, creative, Nepali culture.  Traditionally internationally renowned Bollywood Indian cinema has beautiful choregraphed stunning dance and song at the heart of almost all of its films.  This dynamic certainly transfers to many classic Nepali films but most of all is found on at least the same scale were community and given ethnic cultures are concerned in Nepal in regard to dance and song at folk ('Lok') level and beyond.   The image above is from a UK inter-universities Nepali societies national annual dance competition: amazing dance performances reflecting many of the different ethnic cultures of Nepal with accompanying costumes, and also contemporary, experimental styles.
Nepali music:
Nepali music from folk, classical, to popular is incredibly uplifting. Ma Hu Nepali Babu ('Made in Nepal') is a famous example in the popular music domain: https://www.youtube.com/watch?v=5b_69TwlvOE . Nepali sacred (largely Buddhist) music, often based on chant/mantra is also energising in a powerful way (https://en.wikipedia.org/wiki/Om_mani_padme_hum).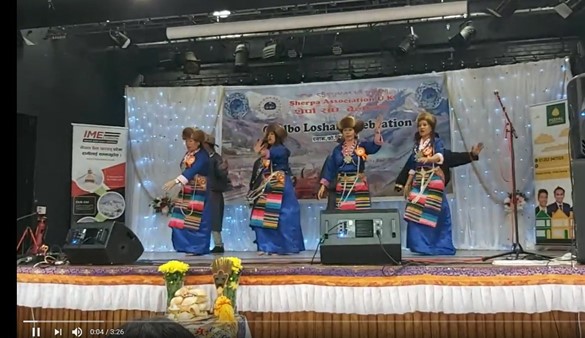 There are many Nepali (Nepal based AND UK-based [often linked to the latter]) radio stations that output popular, folk and classical Nepali music. 
Below we provide a set of Nepali dance & music video links, thanks to the Sherpa Association UK (five pieces listed below: these present song/music, majoring on rarely seen outside of the UK Nepali community), and also from Ms Sita Maiya Rajchal:
The UKNFS has in regard to classic Nepali and Indian musical instrumental music, through the Sita, been provided with a set of video performances of Sita Maiya Rajchal, a Nepali sitarist World Book of Records holder:
Bagpipes:
This You Tube link provided by the Tamrakar family of Dadeldhura in the Far West (Province 7 / Mahakali) of Nepal provides perhaps the most exceptional musical Nepal – British Isles cultures transcultural example, for it provides a demonstration of the Nepali 'bagpipes' which in essence are the same as the famous Scottish bagpipes:  https://www.facebook.com/1376562355966108/posts/2752999268322403/
The musical affinities of Scottish and traditional popular Nepali music, as the video demonstrates, are particularly strong. Here are two more related links:
From the Gurkha Welfare Trust (GWT): https://www.gwt.org.uk/news/gurkhas-and-the-scots/
'The Great Highland Bagpipe has also been adopted by many countries that were formerly part of the British Empire* despite their lack of a Scottish or Irish population. These countries include India, Pakistan, Nepal, Malaysia and Singapore.' https://en.wikipedia.org/wiki/Great_Highland_bagpipe
*To correct: Nepal was never a part of the British Empire, but a key country of South Asia in which transcultural arts learning from the British Isles cultures to those of South Asia took place, albeit little known until now in 21st Century UK.
Nepali dance:
UK Nepali community members, the vast majority of whom are first generation settlers often of only some 5 – 10 years establishment in the UK, preserve and practice at formal society and major cultural occasions, including at the Embassy of Nepal, through to Nepali dance groups, such as the ladies dance group in Aldershot (that meets weekly), almost all forms of Nepali dance as practiced in Nepal itself. 
These forms range from solo (of both genders), male – male, female – female, male and female two dancers performances, through to small group (3-5+) up to large group 20+. In Nepal the latter can include 100+ participants, such as Far-Western Nepali [Dotali] community members (from Mahakali) settled in the capital, Kathmandu, celebrating festivals particular to their culture. Nepali dance is graceful with elegant hand & arm and leg movements, often interspersed with occasional light step moves.
Above we provide an image (permission from the performer) from a Nepali dance performance – rarely seen outside of the UK Nepali community itself – at the 2019 Dorset Indian Association Mela in Poole Park.