There are in the UK and globally a number of endurance-stamina related sports, some of which have world record holder and national [UK] to international competition levels recognition and status.
By far it is clear that Hill Racing is the Gurkha associated endurance sport par excellence. It has ranged from locations such as Hong Kong and the New Territories (prior to their return to China) and Malaysia (Sabah/Borneo) to the South Downs of Sussex. This sport merges in some of its manifestations into full-blown famous mountains marathons — such as Mt Everest and Mt Kinabalu — 'mountain running.'
Hill Racing is an endurance competitive sport that represents the acme of Gurkha/Nepali and British/British Army cultures synthesis. Instituted in the spirit of classical competition on an individual basis in the context of requiring and demonstrating particular stamina related techniques and prowess. In the course of research for creation of information on this particular endurance sport it was a great privilege to meet Kusang Gurung Ji, one of the Gurkha famous conquerors/winners, three times of the Mt Kinabalu marathon/climbathon (1991 – 1993), during the community research stage of the UK Nepali cultural & social heritage project. With a one-year gap before Kusang ji, Sundar Kumar Linthap Ji was winner of this exceptional mountain marathon, also for three consecutive years from 1988 to 1990. In the key formative years of this exceptional endurance sport, the Gurkhas dominated, and still have a significant presence to this day.
It cannot be doubted that Hill Racing (and Climbathons) were at quality and scale levels given invaluable impetus by the experience of myriad Nepali, Gurkhas over the 19th and the 20th centuries, through the incredible and almost unimaginably challenging physical endurance techniques of Gurkha training in Nepal, such as in particular running uphill with 70 lbs of weight in backpacks.
The following from the World Mountain Running Association sets well the background to Hill Racing and Mountain Racing :
About Mountain Running, a brief history
A person's need to run quickly over both short and long distances is as old as humankind. To be fast helped us to survive, to catch an animal for food, to escape from danger and natural catastrophes, to be successful in war or, as in the case of the first marathon, to take messages.
And where did this hunter, warrior, messenger live? Probably somewhere in the hilly countryside. There were no roads, no tunnels to avoid the mountains, no bridges to cross rivers. Therefore we had to run over hills, over mountains, through forests, across rivers as fast as we could. We were not running for medals, or money, or trophies or glory, it was running to survive!
Today this need is no longer necessary, but there is bred into us a desire to run in the nature and over the mountains and so we have our mountain running competitions, where medals, trophies and money replace the historic basic need of survival.
The first written account of a mountain race took place in 1068 when a Scottish King needed to select the most able messenger so the test was to see who could run up and down the mountain nearby in the fastest time. Fast forward to 1895 and the oldest mountain fell race that still continues today took place in United Kingdom.
Source: http://www.wmra.ch/about-us
The Brigade of Gurkhas and Hill Racing: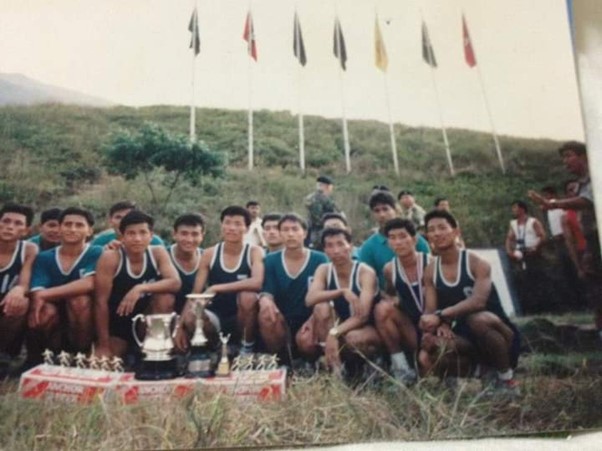 Picture above provided by Sgt Hiradhan Rai from one of the earliest Trailwalker contests
origins of hill racing as a major phenomenon in the British Army's, Brigade of Gurkhas commenced in 1981 with Exercise Trailwalker: Ben White, Regimental Historian, Queens Gurkha Signals (QGS) notes in his ground-breaking, historically important book on the history of the QGS that the event was the brainchild of Major SMA Lee, and saw 246 (Gurkha Field Force) Signal Squadron (the latter to later become the Queens Gurkha Signals).
The first Exercise Trailwalker was, as were all subsequent Trailwalker exercises, not a sports endeavour but a very focused Exercise of and for military skills development and honing purposes in real military operations and battle purposes, only. QGS Regimental Historian, Ben White, records that the challenge of the first Exercise Trailwalker, in 1981, was to complete the course (100 km long: a trail created by Governor of Hong Kong Sir Murray Maclehose, who also in 1979 established a number of hiking trails and parks in Hong Kong & the New Territories) in 24 hours.
However, at the same time, the opportunity was naturally seen that there was fundraising potential arising from Exercise Trailwalker – consequently this gained popularity and attention of a kind associated with a latent and potentially very popular endurance and speed performance related sport. Exercise Trailwalker became, for these reasons, literally, a 'trailblazer.' The first Exercise Trailwalker raised some $70,000 Hong Kong Dollars for the Hong Kong Spastics Society; it proved from a military exercise training perspective a complete success, and a direct echo of one of the types of speed and endurance tests that aspiring Gurkhas in Nepal undergo and had undergone across the 19th and 20th centuries. It touched directly as well into the much more ancient tradition, made famous in Ancient & Classical Age Greece of a very effective military training device united to sports competitiveness allied to society-wide fame – this latter element, albeit by seeming chance, guaranteed by the level and scale of publicity that the first and subsequent Exercise Trailwalkers' gained through the happy chance and/or fortuitous consideration of including a charity fundraising dimension.
In 1983 the second Exercise Trailwalker took place over the same trail in Hong Kong, with this time a different nominated charity beneficiaries (a day centre in Kowloon [Hong Kong] and a library at Harichaur, Galkot near Baglung [Nepal]) according to QGS Regimental Historian Ben White).
The pattern was established. In later years fundraising for important projects and support services of the Gurkha Welfare Trust (GWT: https://www.gwt.org.uk/ ) that provides crucial fundraising and retired Gurkha support (including for community needs and projects in many locations in Nepal, particularly those where Gurkhas have been recruited from and/o return to after military service) became established, rightly linking to the scale and success of British Army Gurkhas in such endurance training exercises.
Subsequently, all the essential elements for a new, combined endurance/stamina and speed type of sport – hill racing — was born, and, ultimately, a subsequent further variant albeit for far fewer in number, speed climbing.
In North Borneo/Sabah, Malaysia, a location of substantial British Army support to Malaysia for many years, became and remains a particularly important location for training, including hill racing. Famous Mt Kinabalu, located in North Borneo was to go on to become the location in the early years of its creation and development, famously associated with world Climbathons and the Mount Kinabalu marathon.
Trailwalker comes to The South Downs:
Trailwalker, originating in the Far East (Hong Kong and Nth Borneo), opened a new auspicious chapter in 1986 when it not only transferred to the UK, but became a new national UK endurance sport annual event that was opened out to the general public, but in which the core British Army presence through direct Brigade of Gurkhas, Gurkha participation and core British Army Gurkha (Queens Gurkha Signals) facilitation and fundraising (for, for example Oxfam, and the Gurkha Welfare Trust) dimensions were and remain intrinsic parts of this unique British Army originated endurance sport.
Mt Kinabalu and the hill districts of Hong Kong were exchanged for the South of England uplands of the South Downs (challenging too physically and for concentration/focus), and thereby in the domain of endurance sport the UK saw an illustrious new truly multiracial, multicultural dawn.
The South Downs Trailwalker annual competition embeds in equal measure the Nepali and British national passions for fundraising for good causes for humanitarian purposes and activities. It is unique in having a military origin and at the same time an Asian origin linked to the 200+ years special and equal basis relationship between the Nepali Gurkhas and the people of the UK.
The outstanding feature of Trailwalker is therefore that because from 1986 it opened to the general public (included within which were and continue to be, specific humanitarian organisations such as the Gurkha Welfare Trust, Oxfam, and others) the broader non-Nepali-Gurkha UK population have been privileged, and inspired by in a modest yet real measure, with the phenomenon of borderline superhuman endurance that for the best part of 200 years Nepali Gurkhas have experienced and continue to experience year on year (typically 10,000+ Nepalis compete for just 300 places per year) to become members of the Brigade of Gurkhas of the British Army.
This is as such the finest outcome of Trailwalker: a message on the interconnection of two peoples separated by thousands of miles, but linked through a new sport that the army of one of the two peoples nations initiated, and with such exceptional multicultural 'one humanity' experience bonding outcomes.
The South Downs annual Trailwalker contest itself spans three Southern England counties, covering some 100 kilometres and taking place across three days and covering some nine checkpoints (excluding the start and finish points of Trailwalker). Course route screen capture below:


Trailwalker starts in the far east of Hampshire on the Downs of that historic county (that once had in Winchester, the location of the capital of Anglo-Saxon England and the ancient Kingdom of Wessex of 'Alfred the Great') at Queen Elizabeth Country Park (Gravel Hill, Horndean, Waterlooville), the Trailwalker course crests the contours of the West Sussex part of the famous South Downs, before turning briefly into East Sussex and concluding at Brighton Racecourse. Some images from the Trailwalker course are provided below: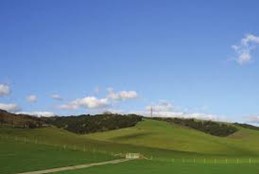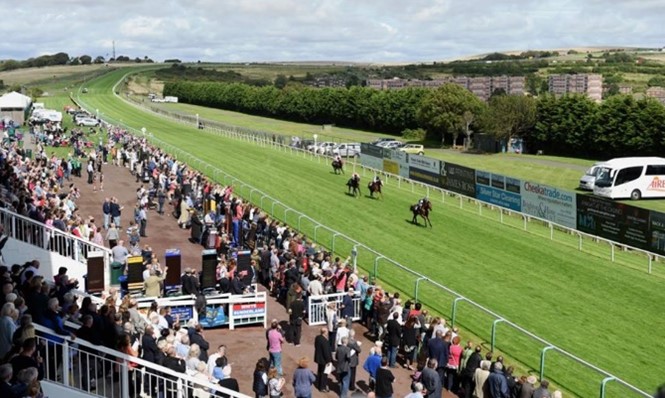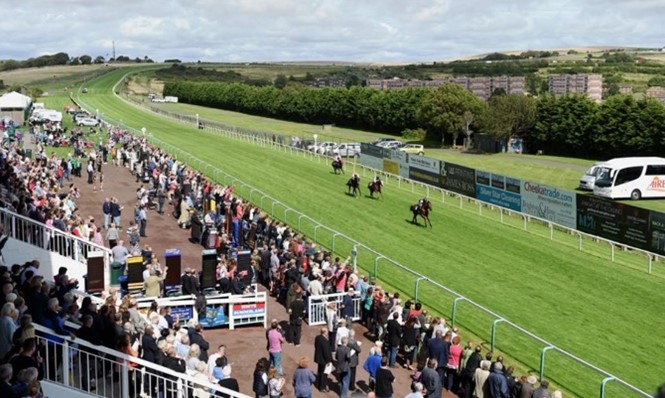 A footnote to Trailwalker:
In 2018 a senior officer of a South of England area UK Government contracted private sector business, inspired by the Gurkha, Trailwalker legendary annual endurance sport event suggested how good it would be for public service and private sector businesses staff to undertake a Trailwalker style challenge with the Gurkhas (that it was understood of course the latter would win exponentially!) to raise funds for charitable endeavours. This is mentioned to demonstrate just how far Gurkha renown is Respected, and how broader non-Gurkha British wish to attach to and associate with the Nepali-Gurkhas ('more British than the British').
A Covid 19 era Spring – Summer 2020, the Gurkhas and endurance-stamina final note on the Gurkhas 'More British than the British' theme, being the ultimate epitome of British fundraising for UK patriotic 'whole of the British nation and society' humanitarian purposes:
Gurkha Soldiers Aim To Run Length Of Country For Hospital Fundraising: Troops take it in turns to run laps day and night until completing the distance.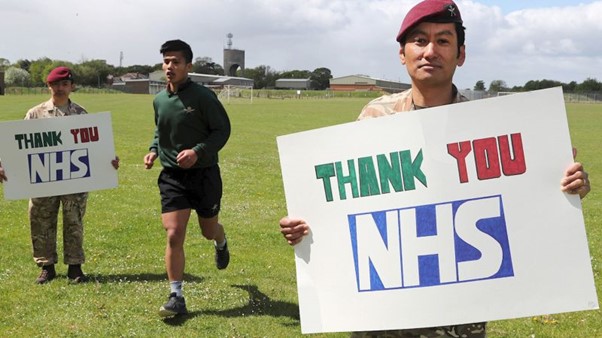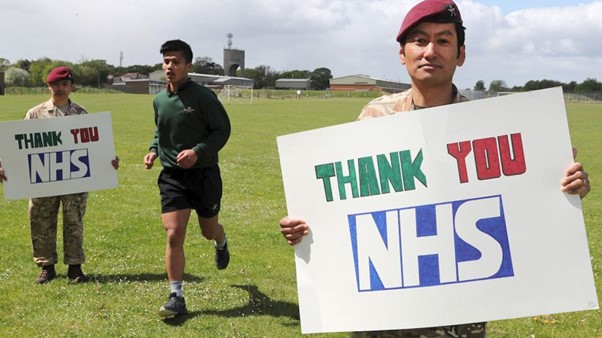 A team of Gurkha soldiers is aiming to run the equivalent length of the UK to help raise funds for a hospital trust.
C (Mogaung) Company of First Battalion The Royal Gurkha Rifles, are attempting to run 1956 kilometres, which equates to 815 laps of their camp, to raise £3000 for the William Harvey Hospital in Ashford, Kent.
It also represents the distance between the two furthest points on the UK mainland – Land's End and John o'Groats.
Nearly half of the Folkestone-based soldiers' wives are nurses and 'key workers' at the hospital and are on the 'frontline' in the nation's fight against the coronavirus.
Sergeant Indra Gurung and Corporal Naresh Rai (whose wife works as a nurse at the hospital) planned the event and started on 11 May.
Sergeant Gurung said: "We have witnessed our NHS Staff providing 24/7 comprehensive care while putting themselves at higher risk of developing the virus and would like to express our huge thank you to all the NHS staff throughout the nation. They are fantastic, and are working selflessly throughout the pandemic to keep us safe.
"We know how hard it is, both physically and mentally, for people to cope with this situation, and we have been motivated by this hardship to run the equivalent length of the UK from Land's End to John O' Groats in support of this amazing hard work."
Corporal Rai added: "Our aim is to raise as much money as possible for our local NHS Trust to show our appreciation for their outstanding work during this pandemic."
Troops take it in turns to run laps day and night until completing the distance, representing 'round the clock' care being provided by NHS staff.
First Battalion The Royal Gurkha Rifles are part of 16 Air Assault Brigade – the British Army's airborne rapid reaction force. It is held in a state of very high readiness in order to be able to deploy anywhere in the world at short notice, if needs be.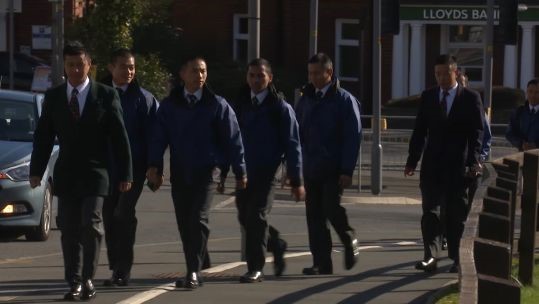 East Kent Hospitals' Chief Operating Officer, Lee Martin said: 'We are delighted to have the support of our local Royal Gurkha Rifles Regiment in raising funds for East Kent Hospitals Charity's Helping Your Hospitals Appeal.
"The funds raised will be used to provide additional support for staff wellbeing at the William Harvey Hospital, during the coronavirus outbreak. Our communities have been wonderfully supportive of our local hospitals, and we wish the regiment the very best of luck in their fundraising challenge."
Cover image: British Army.
Source: https://www.forces.net/news/gurkhas/gurkha-soldiers-aim-run-length-country-hospital-fundraising